Welsh Assembly Tory group leader Paul Davies reshuffles team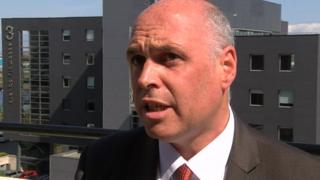 The new leader of the Conservative group in the Welsh Assembly has reshuffled his team as Senedd business resumes after the summer break.
Paul Davies has chosen Darren Millar to succeed him as chief whip, with Suzy Davies taking over the education brief.
Andrew RT Davies, who quit as leader in June, will speak on the environment, sustainability and rural affairs.
Nick Ramsay remains finance spokesman, with Angela Burns at health and Russell George business and the economy.
Mr George - AM for Montgomeryshire - will also be the group's spokesman for mid Wales.
Janet Finch-Saunders will speak on social care, children, young people and older people.
Mark Isherwood has an expanded brief, adding local government to his responsibilities as spokesman on communities and for north Wales.
Mohammad Asghar is given additional responsibilities, as spokesman for further education, skills and faith.
David Melding will speak on housing, heritage, culture - including sport - and media.
Paul Davies said the reshuffle "exploits the best talents of all our assembly members, and will demonstrate to the people of Wales our ability to govern, and turf this failing and complacent Welsh Labour Government out of office".
The Conservatives are the second largest group in the Senedd after Labour, with 12 members.
Mr Davies was named winner of the grassroots membership ballot for a new group leader earlier in September, beating Suzy Davies by a margin of two-to-one.