Drop in EU nationals working in Wales, according to ONS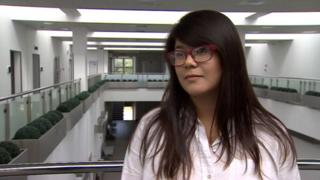 The number of people from other EU countries working in Wales has dropped for the first time since 2010, according to official figures.
But the 42,900 EU nationals in employment at the start of this year is the second highest figure in a decade.
It comes as a UK government-commissioned report on Brexit's impact on the UK labour market was published.
UK ministers say they will "build a fair and controlled immigration system".
Under the prime minister's plan for a new partnership with Brussels after Brexit, known as the Chequers plan, the UK government says the EU's principle of freedom of movement will come to an end in 2021.
Full details of a new immigration policy are due to be published in the coming months.
In an interim report, the Migration Advisory Committee, which gives the government independent advice on immigration, said UK employers are "fearful" about what a future migration system will be like after Britain leaves the EU.
According to the latest statistics from the Office for National Statistics (ONS), the number of EU citizens moving to the UK has continued to decrease over the last year.
EU net migration, the difference between the number of people coming to live in the UK and those leaving, was 87,000 in the year to the end of March 2018, whilst overall net migration was 270,000.
The number of EU nationals in employment in Wales reached its highest level of 47,300 in the year to the end of March 2017 before dropping for the first time in eight years to 42,900 in the year to the end of March 2018.
One of those who has left Wales and returned to the country of her birth is Sandra Pijowczyk.
Seven years ago, she moved as a teenager with her Polish family to Merthyr Tydfil.
"I remember it was Monday when I came in and on Wednesday I had to start school, so it was very difficult for me. Not culture shock but language shock. I knew how to speak English but I was scared that people would laugh."
While her parents, sister and brother-in-law all still live in the south Wales valleys, Sandra returned home a few months after the UK voted to leave the European Union.
In her family's flat in Ruda Slaska, a city near Katowice in southern Poland, she said: "Brexit wasn't really the reason that I came back to Poland but I was thinking, what if I am unable to see my family anymore?"
Asked if Wales ever felt like home, she said: "Maybe when I was younger it felt like home. I did want to move there, I wanted to see a new culture, I wanted to see new people, but when I grew older I knew it wasn't my home.
"I knew my home was Poland so I wanted to move.
"But if I didn't go to Wales, I wouldn't have had a chance to work, save some money. This gave me the opportunity to go back and buy my own house. I think many Polish people don't have this opportunity," the primary teacher added.
In Wales, around 30% of the roughly 8,800 doctors working in the country received their training abroad, whilst around 6% of them were trained in EU countries.
The University of Silesia's medical school in Katowice is the biggest in Poland.
Andzelina Ngo, 23, who is about to start her fifth year at the university, has recently returned from visiting her sister who lives in the UK.
"I would love to stay in Poland but the conditions of employment they are not so great in Poland right now.
"To be honest, I was thinking of moving to the UK because my sister lives there and because English is my second language. But, honestly, right now, I don't know if it will be possible," she added.
Having just finished her medical studies, 25 year-old Marta Nowak would like to remain in Poland and has "never thought of going abroad".
"Maybe in the future it would be a possibility to work still legally in the UK but now everything is not sure. According to my friends who have never thought about Germany, now they prefer to go there because this regulations in the UK might be signed or not," she added.
'Great money'
But her primary school friend and fellow medical graduate, Agnieska Wiorek, said: "I would like to do my dream and study my profession here in Poland but because I'm a huge admire of the British culture and language it's still the only country I would consider moving to.
"The UK is still connected with fulfilling life and career prospects. So, of course, we don't know the details, and we are still wondering how Brexit will affect the economy and the possibility to move to Great Britain. But it's still a country which we associate with great salaries, great money, career prospects and also research opportunities," she added.
EU Workers in Wales
2008 - 24,400
2009 - 23,800
2010 - 22,500
2011 - 28,700
2012 - 28,700
2013 - 31,300
2014 - 33,200
2015 - 38,700
2016 - 40,800
2017 - 47,300
2018 - 42,900
Source: ONS
Of all the foreign-born nationals living in Wales in 2011, analysis suggested the largest group were from Poland.
Merthyr Tydfil saw its migrant population rocket by 227% over the 10 years to 2011 - from just 807 non-UK residents in 2001 to 2,641 by 2011.
Many of those who arrived came from Poland, including Piotr Wojcik whose child attends St Aloysius Primary School on the town's Gurnos estate.
He has lived in Merthyr for a decade, but even though he says he is "happy living here" he has plans to move back to Poland because he misses his family.
Klaudyna Dubis, whose children also attend the primary school, said although she is "a little bit" worried about Brexit, she and her family intend to remain in Wales.