Labour leadership rivals pull out to back Eluned Morgan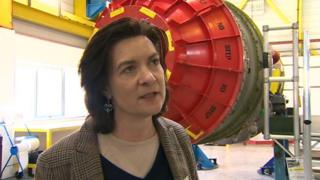 Two Welsh Labour leadership hopefuls have pulled out of the race in order to back Eluned Morgan.
Huw Irranca-Davies and Alun Davies have announced they will back the Mid & West Wales AM's bid to succeed Carwyn Jones.
Ms Morgan also has the support of David Rees and Dawn Bowden but still needs backing from one more AM before she can get her name on the ballot paper.
Mark Drakeford and Vaughan Gething are confirmed contenders for the Welsh Labour leadership contest.
Candidates need five other AMs to support them so unless one of Mr Drakeford's declared supporters decides to change their nomination, she will not get on the ballot paper.
First Minister Carwyn Jones has said he will stay out of the contest.
The four Labour AMs backing the Welsh language minister said they were supporting her candidacy to ensure a "healthy debate" with "a choice of candidates".
"We are putting deeds not words in to action," they said in a statement.
"It is a responsibility we must meet so the membership of our party can choose from amongst candidates who reflect the diverse nature of the communities we seek to represent".
Several leading Labour politicians have said there should be a female candidate on the ballot paper.
Mr Jones said "it would not look good" if there was not a female candidate in the contest to replace him.
Finance secretary Mr Drakeford is the front-runner with the backing of the majority of the party's assembly members.
Mr Gething suggested Mr Drakeford "could make sure Eluned takes part in the contest" by giving her the fifth nomination she needed, as he already had more than enough support.
"Otherwise the impression is given that there's an attempt to prevent her from getting on the ballot paper," Mr Gething said.
"I think that's problematic for all of us in Welsh Labour. I don't think it looks particularly helpful to the wider public. And I think the contest would be richer for having three candidates in it - rather than just the two."
Ms Morgan told BBC Wales she had not spoken to Mr Drakeford, or any of his supporters, about one of lending her a nomination.
"I haven't had those discussions at all, yet," she said.
"That is something that I think will be up to them to contemplate and to decide whether they want to respond to what I'm hearing from party members.
"That is that they want a broad debate, they want to hear about things like the fact that we need to do something to challenge poverty in Wales and to put the economy first.
"Those are the kind of ideas I am very, very keen to be able to put in front of Labour Party members."
The winner of the contest will be named in December.