Brexit: Students warn Theresa May of 'catastrophic' no-deal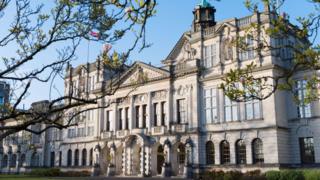 Student representatives in Wales have called on the prime minister to avoid a "catastrophic" no-deal Brexit.
In an open letter, the National Union of Students Wales has called on Theresa May to deliver a deal with the EU "that avoids the worst effects of Brexit".
NUS Wales has also formally backed a referendum on the final terms of Brexit.
The UK Government said reaching a deal with the EU was its "overriding priority".
On Thursday, officials in Westminster published the government's latest contingency plans in the "unlikely event" of a no-deal Brexit.
Mrs May has already announced continued participation in the Erasmus+ student exchange programme until at least the end of 2020 if Brexit negotiations go according to plan.
In the event of the UK and EU failing to reach a deal, the UK government is promising to underwrite the funding for UK applicants who have successfully submitted bids before the scheduled Brexit day on 29 March 2019.
NUS Wales, which represents 350,000 students, wants Westminster to ensure the UK continues to have access to Erasmus+ and any successor schemes beyond 2020.
Concerned about the UK government's ability to reach a deal, the student representatives want the Welsh Government to "urgently explore" continued access to Erasmus+ and other schemes.
The Welsh Government believes Wales should continue to be a part of the programme, as set out in its Brexit white paper.
Gwyneth Sweatman, president of NUS Wales, said: "Schemes like Erasmus+ give Welsh students incredible, life-changing opportunities to study and work overseas.
"Because of politicians' dithering, our access to this scheme and others is at risk."
"I am calling on politicians at all levels to get their act together and make sure that we avoid the worst effects of Brexit."
Welsh Government Education Secretary Kirsty Williams announced over the summer that EU students starting at Welsh universities in autumn 2019 would continue to pay the same tuition fees as home students and their access to support would be unchanged.
As there is no long-term guarantee for EU students in Wales, NUS Wales wants the Welsh Government "to make the case" to UK ministers to confirm their status beyond 2020.