Plaid Cymru: 'Independence is the best path out of poverty'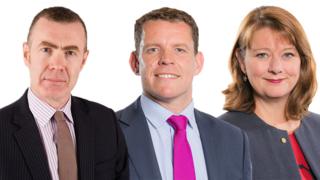 Independence is the best path out of poverty for many people in Wales, according to Adam Price.
AM Mr Price said fears need to be allayed and people convinced it can be a better "change project" than Brexit, which came from resentment of the political classes.
Along with Rhun ap Iorwerth, he is challenging Leanne Wood for the leadership of Plaid Cymru.
Ms Wood has led Plaid since 2012, and the vote result will be 28 September.
While the question of independence looms large for all, Ms Wood said "inspiring communities" and getting to the "first base" of power in the Senedd is the first challenge.
The three candidates took part in a debate on BBC Radio Wales Sunday Supplement programme.
Ms Wood pointed to the fact the party now has the most MPs it has ever had (four), two out of four police and crime commissioners and its second highest number of councillors.
And pointing to her claiming the Rhondda seat in the 2016 assembly elections, she added: "These show what can be done.
"The foundations are in place now, we know how to win elections in traditional Labour areas."
However, Mr Price said despite "little oases of success" and "sustained breakthroughs" in his Carmarthen East and Dinefwr seat and the Rhondda, the party needed to broaden its appeal.
Former journalist and Ynys Mon AM Mr ap Iorwerth said he wanted to "open the aperture" and "build the widest possible alliance" to achieve this.
"Not just people on the left and in the centre, but farmers and those that believe in Wales and the future and want to contribute," he said.
If it gains power in the Senedd - the party won 12 out of 60 assembly seats in 2016 - it can focus on its "core aim" of independence, Ms Wood said.
"We have to accept that many people are concerned and are afraid of the idea," she said.
"We have to put the case honestly, the economics."
She said this would take two terms of a Plaid Cymru government, pointing to the "650 pages answering every imaginable question" the SNP produced before Scotland's independence referendum.
Ms Wood said independence would see decisions made by Welsh people not by "another parliament in a paternalistic way".
Asked whether it was viable, considering Wales was one of the poorest countries in Europe, Mr ap Iorwerth replied: "The Republic of Ireland would have been on a map of the poorest before independence."
He said Brexit clarified it would not be "about burning bridges and building walls", but Plaid Cymru had to firstly "recognise what people are scared of".
AM for Carmarthen East and Dinefwr from 2001 to 2010, returning to the role in 2016
"It is about redesigning Britain into a collection of countries that work closely together," he added.
Mr Price said: "We have to realise it [independence] is not just an abstract question but a question about their lives and the deep endemic poverty many have been brought up on.
"It is the path we must build for the majority of people in Wales."