Ex-Plaid Cymru leader Jones backs Rhun ap Iorwerth campaign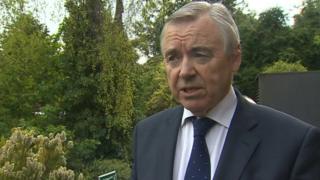 The former leader of Plaid Cymru has backed Rhun ap Iorwerth for the Plaid Cymru leadership.
Ieuan Wyn Jones was his predecessor as AM for Ynys Mon, having stood down in 2013.
He said the former journalist had the skills to persuade "a new audience of people" to back Plaid.
But MP Jonathan Edwards said the contest was a close race between Mr ap Iorwerth's rivals - Adam Price and Leanne Wood.
Mr Jones was MP for Ynys Mon from 1987 to 2001 and its assembly member between 1999 and 2013.
He served as leader of Plaid Cymru from 2000 to 2012, and was deputy first minister in Labour/Plaid coalition from 2007 to 2011.
"I think that Rhun has the skills to ensure that the group works closely together, with a series of robust policies to present a clear, ambitious and credible programme to the electorate," he said.
"He has the vision and communication skills needed to succeed and to make sure that that exciting vision reaches and persuades a new audience of people who have not supported the party before."
But Mr Edwards, the Carmarthen East and Dinefwr Plaid MP who is backing Adam Price, suggested Mr ap Iorwerth was behind his competitors.
"Data from the phone banks we have around the country show it's a close race between Adam and Leanne," he said.
BBC Newyddion 9 chief correspondent Aled ap Dafydd said sources in Mr ap Iorwerth's camp were painting "a different picture" and were claiming there was a "close contest" between the three candidates.