Welsh Lib Dems in difficult position, Sir Vince Cable admits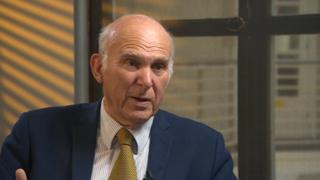 Liberal Democrat leader Sir Vince Cable has admitted his party is in a difficult position in Wales.
He said the Welsh Lib Dems have a "big rebuilding job" but claimed they still had "significant strengths" in mid Wales.
The party would "partly rebuild through local government", he said.
Mr Cable's Lib Dems currently have no MPs in Wales and their only AM is Kirsty Williams who is education secretary in the Welsh Government.
The Lib Dems have been calling for a referendum on the final Brexit deal and Sir Vince said he is willing to work with "other parties" including Plaid Cymru.
He added that new Welsh Lib Dems leader Jane Dodds is an "outstanding capable individual" but acknowledged it will take time to "build up the grassroots".
"It is difficult and I recognise that there is a big rebuilding job," he told BBC One's Sunday Politics programme.
"We have significant strengths still in mid Wales, where we had three MPs until recently and I'm confident we'll get them back."
He said his party would "partly rebuild through local government" and added: "It is a step by step process but I want to accelerate it."