Jones responds to Carl Sargeant probe legal challenge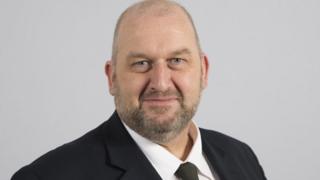 The women who made allegations against Carl Sargeant must remain anonymous, Wales' first minister has said.
Carwyn Jones issued a statement after delays to the investigation into the way he dismissed Mr Sargeant from the cabinet last November.
Days later, the former Alyn and Deeside AM was found dead at home.
Earlier this month the investigation was suspended after a legal challenge by Mr Sargeant's family.
The family is seeking a judicial review and is demanding its lawyers be allowed to cross-examine witnesses who give evidence.
In a statement on Thursday, Mr Jones said the Welsh Government would be "strongly contesting all the grounds on which it [the review] is being brought and the legal process will now take its course".
Setting up the investigation, led by Paul Bowen QC, had been "complex, and has had to take into account a number of inter-related factors, including among other things the absolute requirement to maintain the confidentiality of the complainants", Mr Jones said.
He added: "I was the one who announced the need for this investigation and, as much as anyone, I wish this process had reached a conclusion by now.
"However, this must be done properly and in a way that does not compromise the anonymity of the people who came forward with complaints."
Initially the Welsh Government hoped the investigation would take no longer than four months, but it has since emerged that hearings will not take place before March or April next year.
In his statement, Mr Jones said there had been revisions to the Bowen investigation's operational protocol, which Mr Sargeant's family are now seeking to challenge.
The first minister - who is due to stand down in December - said the protocol gave "discretion for the chair to enable the Sargeant family and their legal representatives to be present during questioning, subject to assurances about the confidentiality of the complainants and any evidence that might risk identifying them".