Welsh Labour leader election to use one-member-one-vote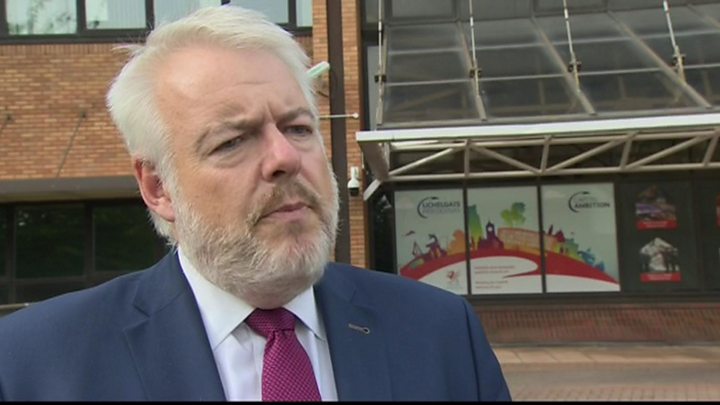 Welsh Labour will use the one-member-one-vote system - like the one used to elect Jeremy Corbyn - to choose its next leader.
Delegates at a Cardiff conference voted two-to-one in favour of the change.
The decision, following months of wrangling, means the votes of all party members will now carry equal weight.
Finance Secretary Mark Drakeford and Health Secretary Vaughan Gething are in the running to succeed First Minister Carwyn Jones, who is due to step down.
One-member-one-vote system, or Omov, is the system used by Labour in the rest of Britain and was the one the party's UK leader Mr Corbyn was elected under.
It means all party members - and members of unions and affiliated groups - get an equal vote.
A rejected alternative option was to reform Welsh Labour's electoral college, giving half the vote to party members and half to affiliated members.
Both options emerged from a review by former Labour Party cabinet member Lord Murphy, brought in after an outcry from supporters of Omov.
Labour's ruling executive had initially wanted to keep the college, which splits leadership election votes three ways between members, unions and politicians.
Mr Jones, who is set to step down in December, denied the party's Welsh Executive Committee was wrong to reject a proposal to introduce one-member-one-vote last year.
"At the time, of course, we hadn't asked any of the party's membership what their view was, you couldn't take a decision without asking our own members," he told BBC Wales.
He agreed there had been concern over Welsh Labour's deputy leadership election in April.
Julie Morgan won the popular vote but was beaten by Carolyn Harris, who had more support among elected politicians and trade unions.
"We saw the system being used for the deputy leadership, a lot of people were very uncomfortable with the way that worked out," he said.
"And it was clear, at that time, to me that it would be difficult to keep the existing system and we had to have a change."
Now, Lord Murphy will begin the second part of a review into democracy within Welsh Labour.
That could include how candidates are selected and elections to key party posts.