Is Gareth Bennett happy Caroline Jones has left UKIP?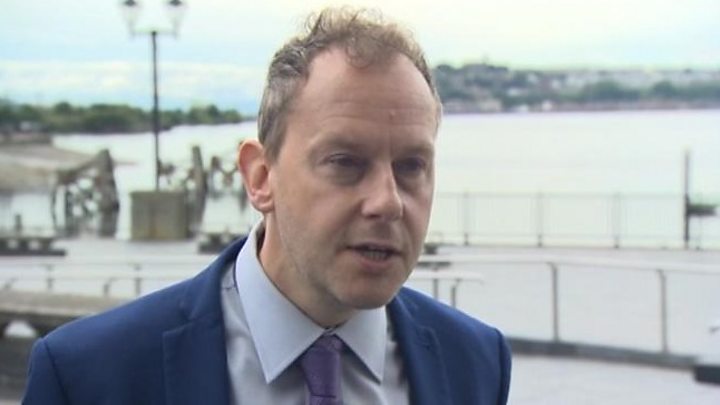 Gareth Bennett's reaction to the exit of Caroline Jones from UKIP was not how most would expect a group leader to respond to the defection of one of his AMs.
With a strong subtext of "am I bothered?", Mr Bennett even suggested it might be better for the group to be without Mrs Jones, and that anyone else who does not agree with the direction of the party should "get off the train".
He would not speculate on who might go next. But one senior source in the party privately suggested that North Wales AM Michelle Brown, who recently criticised Mr Bennett's anti-devolution stance in a Daily Telegraph article, might also leave.
Her spokesman said she was staying. Ms Brown said: "I deeply regret that Caroline has left the group."
She had backed Caroline Jones for the leadership in May, when the pair and David Rowlands unseated Neil Hamilton.
Mr Rowlands is also staying on. He said he was "bitterly disappointed" by Mrs Jones's departure, and questioned why she was not resigning from her seat on the South Wales West regional list.
Since he beat Caroline Jones in the summer's leadership election, Gareth Bennett has been planning to run the group assuming that defections may take place.
Mrs Jones has left him with a team of four, but the recently-installed leader has envisaged a group as small as three - the smallest number of AMs a party needs in order to be recognised as a group and be given all the resources that come with that.
It all gives the impression that Mr Bennett would prefer to have fewer AMs in Team UKIP Wales that disagree with him.
And his attitude reflects a difficult working relationship between the pair, which barely existed.
Both Mr Bennett and Mrs Jones attest to highly-strung group meetings where tempers frayed.
Given the contest, Caroline Jones's decision to quit the party was not a great surprise.
Her exit is yet another rift in an assembly group that has shrunk from seven members to four and has been dominated by soap opera-style squabbles.
But it is also emblematic of a party whose members, since the EU referendum, have struggled to find a purpose beyond securing Britain's exit from the UK.
Mrs Jones's claim that the party is moving to the far right comes after it recently allowed several controversial social media personalities to join.
One of the activists has called for Muslims to be expelled from the West. Another is a contributor to a conspiracy theory website whose founder has been banned from several social media websites.
She said their recruitment was the "beginning", as she saw it, "of a party that had been centre-right, changing".
Party leader Gerard Batten has been outspoken about Islam, and has reportedly said that the former English Defence League leader Tommy Robinson should be allowed to join the party.
Moves to discuss that at conference have now been dropped, but Mr Batten has been a high-profile of the far-right activist, whose real name is Stephen Yaxley-Lennon.
What now for Caroline Jones? It is not clear if she will stand for re-election in 2021.
And despite some speculating she could add to the Tory ranks, she says she wants to remain independent.