Labour anti-Semitism row: Israel criticism defended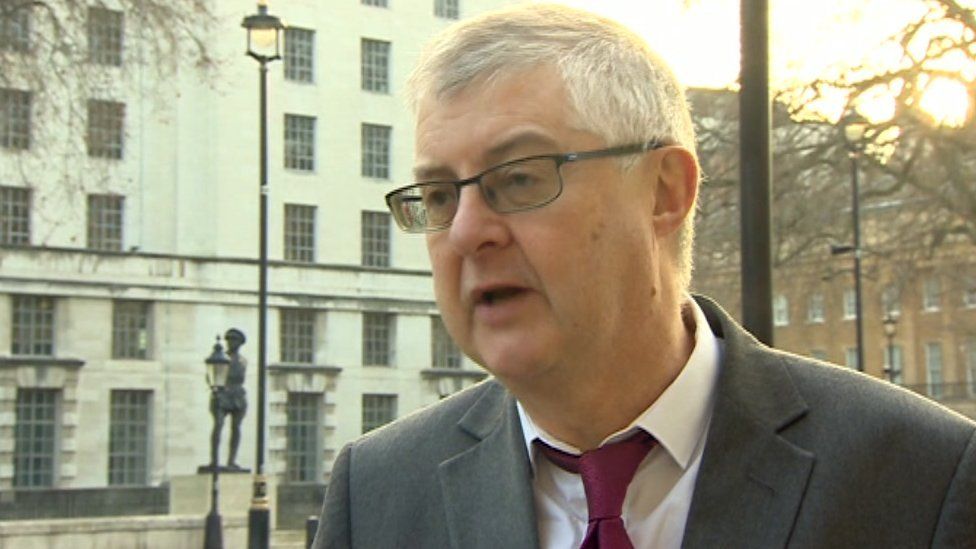 The front-runner for the leadership of Welsh Labour has said criticising the government of Israel is "entirely different" from anti-Semitism.
Labour's ruling body has now fully adopted an internationally-recognised definition of anti-Semitism.
Mark Drakeford said Labour must combat anti-Semitism in its ranks, but freedom to speak out "must be defended".
His reaction contrasts that of Carwyn Jones, who said the row had been "avoidable and damaging" for the party.
A row over whether to adopt the International Holocaust Remembrance Alliance's (IHRA) definition of anti-Semitism and all its examples has engulfed Labour this summer.
It saw Labour leader Jeremy Corbyn accused of being a racist by one of his own MPs - Dame Margaret Hodge.
Some supporters of Mr Corbyn said the code risked curtailing their freedom to criticise Israel.
First Minister Carwyn Jones was among those who attended a meeting of the national executive committee (NEC) on Tuesday which decided to adopt the IHRA definition of anti-Semitism in full.
Mr Jones said he was "pleased the UK Labour Party has now followed the Welsh Labour government's example" in accepting the definition, describing the anti-Semitism row as "avoidable and damaging" to the party.
In a statement on Wednesday, Mr Drakeford - the Welsh Government's Finance Secretary - said: "Anti-Semitism has no place in the Labour Party and action must be taken where examples of anti-Semitism exist.
"The NEC's decisions yesterday to adopt the full IHRA are based on that long-standing proposition.
"Criticism of the government of Israel is an entirely different matter and freedom to express such opposition must be defended.
"Here in Wales, the long established Inter Faith Forum has played a key role in fostering understanding between all faith groups."
The Welsh Government adopted the IHRA definition of anti-Semitism in 2017.
Following Mr Drakeford's comments Vaughan Gething, the only other Labour assembly member currently with enough of the party's AM's backing him to stand for the leadership, warned against "equivocation when it comes to anti-Semitism".
"There is nothing in the IHRA to prevent legitimate criticism of the Israeli government or advocacy for Palestinian people," he said
"Every time people cling to free speech to excuse anti-Semitism or claim it's a creation of the main stream media we belittle real experiences of people who have been subject to anti-Semitism.
"We make it harder to reach out to people who feel let down by our party.
"We have to demonstrate leadership that is consistent with our values - we still have some way to go to win back trust."