Welsh Government cabinet meeting minutes 'laughably short'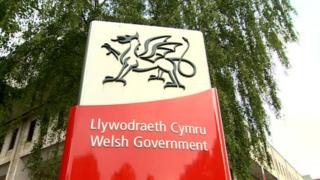 There are calls for greater transparency over reports on Welsh Government cabinet meetings, following publication of the latest minutes.
The 10 July meeting minutes - attended by 28 people, including 14 government members - are fewer than 100 words.
A Plaid Cymru AM described the minutes as "laughably short" and more typical of a "totalitarian state".
A Welsh Government spokesperson said "there is sometimes a need to withhold some material from publication".
Minutes are published no sooner than six weeks after meeting, so the minutes of 10 July were published on 24 August.
The first of the three agenda items only approved the minutes of the previous meeting.
The one issue discussed under "First Minister's Items" was Brexit, with the minutes recording that "the First Minister informed Cabinet that he would be meeting Michel Barnier, the European Chief Negotiator for the UK Exiting the European Union, in Brussels on Monday".
The final item, on "Government Plenary Business", says that "Cabinet discussed the contents of the Plenary Grid and noted that a Statement to provide an Update on European Transition had been added to the Plenary agenda for the following week."
Plaid Cymru AM Llyr Gruffydd told BBC Wales: "I'm amazed to see so little information presented in these latest meeting minutes of the Welsh Government cabinet.
"How can we hold the government to account when the government's own cabinet meeting minutes are so lacking?"
Mr Gruffydd added: "It is a cause of serious concern to us as a party to see such laughably short minutes. The Welsh Government has a duty to be open and accountable but their inability to fulfil this duty is a symptom of a wider problem within this government.
"Their reluctance to be transparent is symptomatic of what one sees in a totalitarian state rather than a progressive country. It's just not good enough."
'Massive effect'
Electoral Reform Society Cymru director Jess Blair, said: "People need to be able to understand how decisions in Wales are made, who the decision makers are and what those decisions mean. Fundamentally what is agreed in cabinet has a massive effect on people's lives.
"As part of the Open Government Network in Wales we've been calling for greater transparency in all areas of Welsh Government.
"While we understand the political sensitivity of cabinet meetings, more accessible information from these discussions could give a greater insight into Welsh politics for the benefit of the Welsh public."
According to the Welsh Government "the cabinet's policy is to conduct its business as openly as possible".
A statement on its website says: "We withhold material from publication only where there is an overriding reason for doing so.
"We do not include in the published versions of cabinet papers or minutes, anything which is commercially sensitive, relates to the Welsh Government budget or other budgetary or financial matters, contains or alludes to information received in confidence from a third party, or would otherwise cause substantial harm if disclosed."