Welsh police forces promised apprenticeship levy cash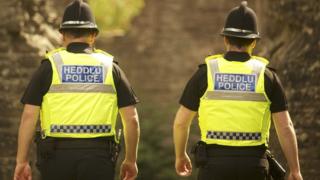 Police forces in Wales are set to get Home Office funding for training following a row over the UK government's apprenticeship levy.
It comes as a Welsh Assembly committee warned that the forces were paying £2m a year but got no cash back.
AMs said the money was "falling through the devolution crack" because training is devolved but policing is not.
The Welsh Government said the Home Office had promised funding for Welsh police apprenticeships from 2019.
Introduced in April 2017, the UK apprenticeship levy is paid by all employers with a wage bill over £3m, including police and councils.
It is used to help train recruits without a degree.
But the Police Federation - which represents rank and file officers - said Welsh forces had not seen a penny of the money they paid into the fund, prompting fears they would lose potential recruits to England.
In a report on Friday, the assembly's economy, infrastructure and skills committee noted that English forces could access funding of £24,000 per trainee officer over three-year apprenticeships.
Committee chairman Russell George said: "Although we support apprenticeships, we believe that the Apprenticeship Levy has created cracks in the system", citing the police example as a key concern.
"We will remain vigilant to ensure these opportunities are available as widely as possible for as many people as possible," he added.
The UK government, which has responsibility for the fund, sends money directly to organisations that pay into the levy in order for them to train apprentices.
But the Welsh share is sent to ministers in Cardiff, who then have responsibility for handing it out.
As skills policy is devolved, the money is not necessarily spent on apprenticeships in Wales and can be spent as ministers see fit.
The Welsh Government has previously said the levy had "not provided any significant additional funding for Wales", claiming it had been offset by cuts to other UK apprenticeship programmes.
In a statement on Friday, a Welsh Government spokesperson said: "Since the committee's inquiry was held, the Home Office has confirmed it will provide funding to Welsh police forces to enable them to commission apprenticeships from 2019.
"In addition, we have provided £400,000 to help police forces prepare to deliver their future training needs."
The UK government has been asked to comment.