Youth Parliament could be 'voice for young carers'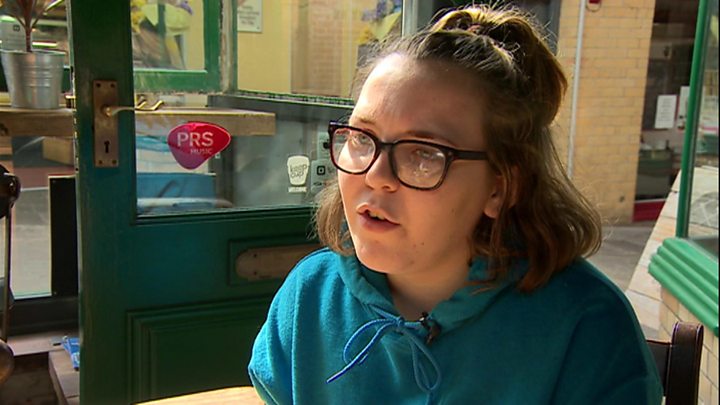 Teenager Meg Escott is a carer for her grandmother with dementia, her mother who has mobility issues and epilepsy and her younger brother who also has epilepsy.
The childcare student is interested in being elected to the new Welsh Youth Parliament to "give carers a voice".
Next week, young people will be able to apply to stand as a candidate.
They could become one of 60 members attempting to influence the Welsh Assembly on issues they care about.
"If it was a bad day with my grandmother I would have to make sure the oven is off, I have to feed her, I have to help her get dressed and also she does forget to turn the taps off," said Meg, from Ammanford, Carmarthenshire.
"It gets really bad."
The Youth Parliament election will take place in November - with 40 of the 60 members elected by young people across Wales to represent their constituency.
The remaining 20 will be nominated and elected by partner organisations such as Carers Trust Wales, which offers support to young carers like Meg.
The aim is to ensure young people from a range of backgrounds are represented.
"For young carers, it's important we have a voice because we don't really have a voice and people don't understand what we do," Meg said.
"Being on the Youth Parliament would give me a voice to represent young people and carers like me."
The Youth Parliament will discuss ideas and offer feedback to the elected adults in Cardiff Bay.
The Presiding Officer Elin Jones said AMs are "enthused" by the prospect of having a Welsh Youth Parliament and so "hopefully they'll be enthused enough to listen to the views that come forward from young people".
"I hope that politicians here in government and in committees will seek the views of young people and decisions will be better informed from the perspective of young people because that's important for communities right across Wales," Ms Jones said.
Alongside establishing the Youth Parliament there are also plans to lower the voting age to 16.
A-level student Ethan Williams said some of the arguments from some quarters that young people are not adequately informed or interested in politics to participate.
"Young people do have a big interest in politics, hence why the Welsh Youth Parliament is being set-up," he said.
Turning to the Brexit vote - where polls suggest young people were much more inclined to vote to remain in the EU - Ethan said: "Our voice was lost and our future, to some, was stolen by the older generation."
Young people aged 11-18 can register to vote on the Welsh Youth Parliament website.
Anyone interested in standing can apply to be a candidate from Monday 3 September.