Outspoken Bennett 'neutral' UKIP Welsh Assembly leader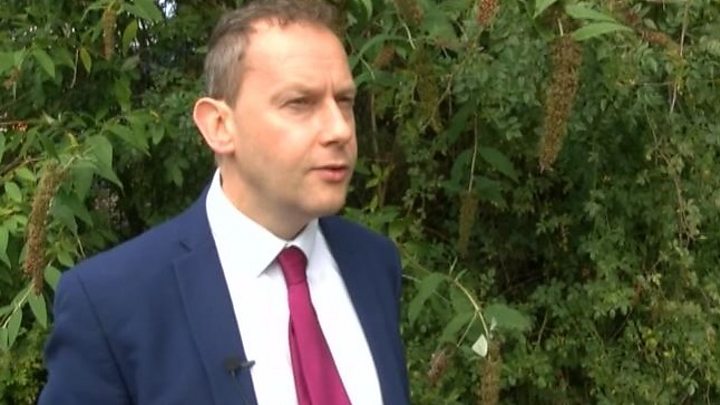 UKIP's new leader in the Welsh assembly was elected because he was seen as the "neutral corner" within the party, an AM has said.
Controversial AM Gareth Bennett won a three-way battle to lead the party in the Senedd on Friday.
South Wales East AM David Rowlands told BBC Radio Wales his election was "a vote against the internecine squabbles from within the party".
Mr Bennett's views have previously been labelled "offensive" by fellow AMs.
He becomes UKIP's fourth leader in Wales since Nathan Gill - appointed by Nigel Farage - led the 2016 assembly election campaign which saw the party win its first seven Senedd seats.
His victory on Friday saw Caroline Jones ousted as leader in the assembly after just six weeks in the job, with Mr Bennett beating her and her predecessor Neil Hamilton in the ballot of UKIP members.
UKIP UK leader Gerard Batten said after the result he expected all candidates to "work together for UKIP's cause and get on with the job".
Mr Rowlands added: "I think it's now time for each of those participants to man up or woman up over the next few months and actually make sure these internecine squabbles end now."
He also said Mr Bennett's election came as a "surprise" and said the assembly "needs to settle itself down".
North Wales AM Michelle Brown welcomed Mr Bennett's leadership, adding she would give him "every support I can".
Previous leader Caroline Jones expressed her "disappointment" at the decision to call an election and says she has "a lot to think about".
"You could say it was democratic to have had a vote, but then that should have been done from the start. I feel disappointed that Gerard Batten hadn't given me the same mandate as had been enjoyed by my predecessor."
Former UKIP AM Mark Reckless, who defected from the party to join the Conservative group in the assembly in 2017, said he believed Mr Bennett won the election as a result of his "strong line" against the Welsh Assembly.
Mr Bennett has stated he believes the Assembly should be abolished, but both Mr Rowlands and Ms Jones dismissed the idea that ending devolution would become party policy.
Other parties have criticised Mr Bennett's appointment, with Labour Health Secretary Vaughan Gething describing Mr Bennett as a "deeply offensive man" and Plaid Cymru leader Leanne Wood saying UKIP's demise would be "welcomed".
Mr Bennett has drawn criticism for blaming immigrants for rubbish in Cardiff, and claimed transgender people undermined society by their "deviation from the norm".