UKIP leadership: What does Gareth Bennett's election mean?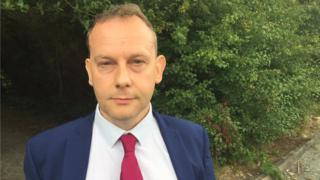 It's not every day that we have to head to the West Country (of England) to cover a Welsh politics story.
That was where UKIP chose to hold their assembly leadership election count, at their headquarters building near the market town of Newton Abbot, Devon.
Incumbent leader Caroline Jones was the only candidate to be there for the event itself.
Gareth Bennett stayed away, at least initially, while Neil Hamilton did not show up at all.
In the end Mr Bennett - a man who faced calls for de-selection before the Senedd 2016 poll because of comments about immigrants - was the victor.
As a result, we now have a leader of one of the assembly's opposition party groups who wants to see the legislature's ultimate abolition.
And we have a politician on a national platform who is questioning spending on the Welsh language.
Both issues go against a consensus in the assembly and Welsh politics.
But he's also the third UKIP Senedd leader in the assembly proper since the party's entry in the Senedd 2016 elections.
They have been beset by rows ever since those polls. They went from seven AMs to five, and in May three of the remaining group ousted their former leader Neil Hamilton.
Mr Bennett also has the internal challenge of keeping the team together.
Traded blows
Everything may carry on as it has been, but Caroline Jones and Gareth Bennett have traded blows in recent months.
Ms Jones has publicly criticised Mr Bennett over a video where he made derogatory comments about a Labour AM, while Mr Bennett recently accused Ms Jones of undermining him in a row about who should do the job as UKIP's assembly commissioner.
But on Friday, Ms Jones was unclear about whether she would stick by the group.
Can bygones be bygones?