Timber scandal: What went on in Natural Resources Wales?
By David Deans
BBC News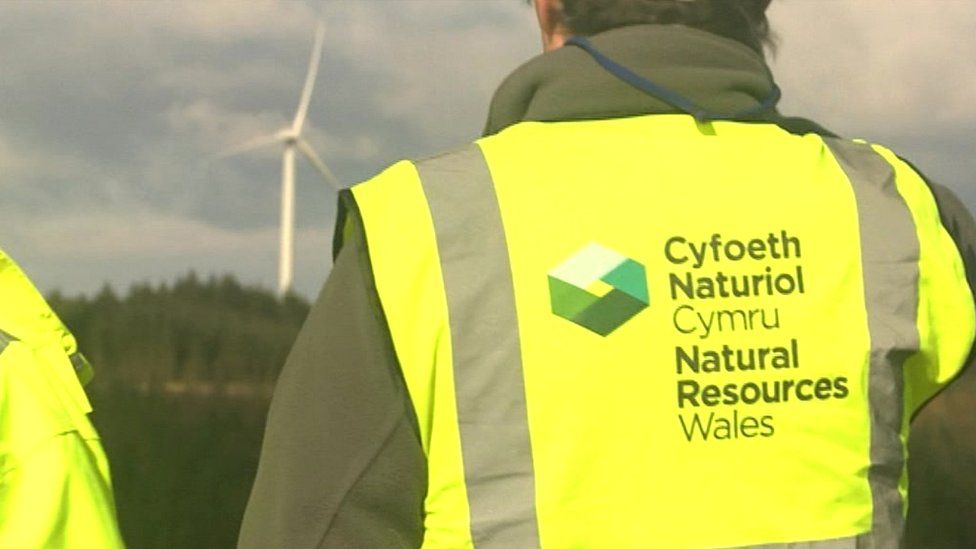 The row over how timber sales were managed at Natural Resources Wales has cost at least one official their job.
A new Wales Audit Office report, written by the former auditor general Huw Vaughan Thomas, reveals fresh details about the contentious deals.
Back in 2014, NRW struck a 10-year deal with BSW Timber - worth £39m to the quango - to buy wood in a bid to deal with diseased larch.
This collapsed in March 2017, because BSW Timber did not build a saw line as it had promised.
The fact that the contracts were never put to the open market led to auditors criticising the accounts for 2015/16 in what is known as a "qualification" - they were unable to say if the deals were lawful or not.
But despite this incredibly strong - and rare - criticism of a public body, NRW embarked on a further 59 contracts with three different firms which were again not tendered.
It sparked a repeat of Mr Vaughan Thomas' criticisms, and a qualification to the annual accounts for a third year.
Meanwhile, one of the recipients of the new deals was BSW Timber itself, which had threatened to sue NRW after it was told the original deals were coming to an end.
What does this report show that we didn't know?
On the 28 March 2017, the then NRW chief executive Emyr Roberts sat in front of the Public Accounts Committee and was unable to say if a new saw line had been built.
But the report shows that BSW Timber had told him in a meeting the previous month that the saw line was no longer commercially viable.
At that meeting, BSW was told that if the new saw line was not constructed by the end of March, the contracts would be terminated.
The company replied by threatening to sue NRW to recover £4m it claimed it had invested, and to close its Welsh premises.
Legal advisors to NRW said they could see no possible claim against the quango, and that the £4m investment BSW made was irrelevant as they did not build the saw line.
They warned that proceeding with a renegotiation with the same firm was legally risky, too, given EU state aid rules that prohibit state intervention that could potentially distort competition.
But NRW proceeded to renegotiate. It also sought a deal which, once it was completed, would mean BSW would have ultimately received 40% of what it would have had under the terminated contracts.
That is significant, because the reduction was proportionate to the £4m investment BSW Timber said it had made - 40% of the £10m it was originally expected to spend.
In the end, BSW made a deal which meant the firm would have received 43.3% of what it was originally offered under the terminated 10-year deal.
How did another company become involved?
NRW went on to award 59 contracts - 11 to BSW, 11 to a company owned by BSW called Tillhill, and 38 for the sale of standing trees to a timber harvester firm, Euroforest.
The deals with the latter firm - the name of which has been confirmed by NRW - came about after they emailed the quango on 31 March 2017 asking for the same arrangement as BSW. It had been involved in the work on the old timber deals.
"We have done everything that has been asked of us and essentially been hung out to dry," Euroforest said, expressing suspicions BSW Timber would take harvesting back in-house.
Could NRW have made more money?
The organisation acknowledges it lost out on £1m income on the first set of 10-year deals.
And auditors have serious doubts as to whether the subsequent deals were priced at market rates.
Prices differed between what was offered to BSW Timber and what was offered to Tillhill and Euroforest.
In 11 of the 38 contracts to Euroforest, the prices for wood were the same as the terminated deals, which NRW had itself acknowledged were poor value for money.
The report said that if all the contracts - most of which were completed by March 2018 - had been priced the same way as the BSW deals, NRW may have received £186,232 more in income.
The former auditor general, Huw Vaughan Thomas, wrote it was "unacceptable that NRW has kept no records setting out its reasons for applying the prices it did to the transitional contracts".
Why did they make 59 new contracts without tendering them?
NRW drew up the transitional deals - which mostly covered the financial year 2017-18 - to ensure that the ending of the longer deals did not have an impact on timber processors and customers, or their income.
The organisation has an exception in its own rules that allows it to negotiate directly with firms in reaction to unexpected events.
But Mr Vaughan Thomas suggested there was nothing unexpected about the failure to build the saw line.
"A new saw line typically has a construction period of 12 to 18 months and therefore NRW should have been aware many months before March 2017 that the saw line was very unlikely to be constructed," he said.
Because of this, the then auditor general said NRW was unable to demonstrate it had a good enough reason to depart from its own timber marketing plan "when it entered into 59 timber sales contracts without seeking competition from the market".
"I am therefore not satisfied that NRW complied with principles of public law when entering into the contracts, and that the resultant transactions are lawful," he wrote.