'No plot' from UK party to oust ex-Welsh Tory leader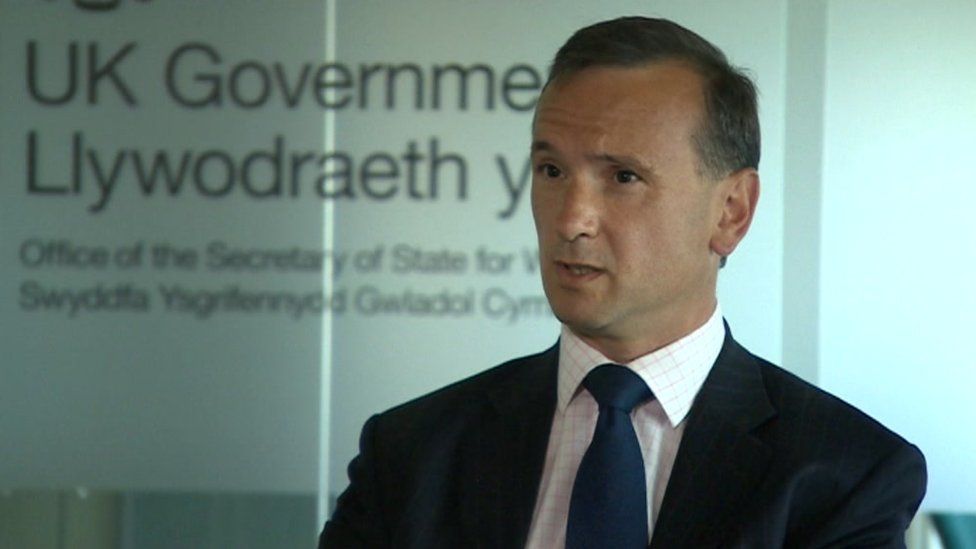 There was "no plot from Westminster" to oust the leader of the Conservatives in the assembly, Welsh Secretary Alun Cairns has said.
Andrew RT Davies, who quit the job in June, claims he was mistakenly sent a text about a scheme to oust him.
"I enjoyed working with him right to the end," Mr Cairns said.
This is despite two opinion polls suggesting otherwise in Wales.
But Mr Cairns said the polls had only looked at the Welsh side of the bridge and he would never have made the move if he had not had support, as "the last thing I would want to do is cause difficulty to his Royal Highness".
Mr Davies has previously said that 15 months ago he was copied into a text "which showed that there were moves afoot to try and remove me as leader".
"I think the tone of the text said about 'keeping a lid on it' or 'removing him straight away' - and that was from the other end of the M4," he had said.
But Mr Cairns has now insisted there was "absolutely no plot from Westminster".
Mr Reckless had upset others in his former party when he had defected to UKIP prior to a Conservative conference.
"The text we're talking about related to Mark Reckless and the wish in order to see him go after the local elections that were taking place at the time, not any other outcome," he said.
"I spoke to Andrew immediately after that, and I did on an ongoing basis and I worked closely with him right up until he decided that he was leaving."
He said there was "no secret" about the text given the "discontent" about Mr Reckless joining the Tory group.
Mr Cairns has been the public face of the decision to rename the Second Severn Crossing.
Defending his comments, he said: "Absolutely the majority is in my favour.
"The polls have only looked at one side of the bridge, rather than the wider community that is linked together."
"But I would never have done this unless the first minister and the Labour party in Wales were strongly supportive either.
"The last thing I would want to do is cause difficulty to his Royal Highness."
Sunday Politics Wales, BBC One Wales, 1100 BST, 22 July