Labour AM Passmore faces Senedd ban over breath test
By Aled ap Dafydd
BBC Wales political correspondent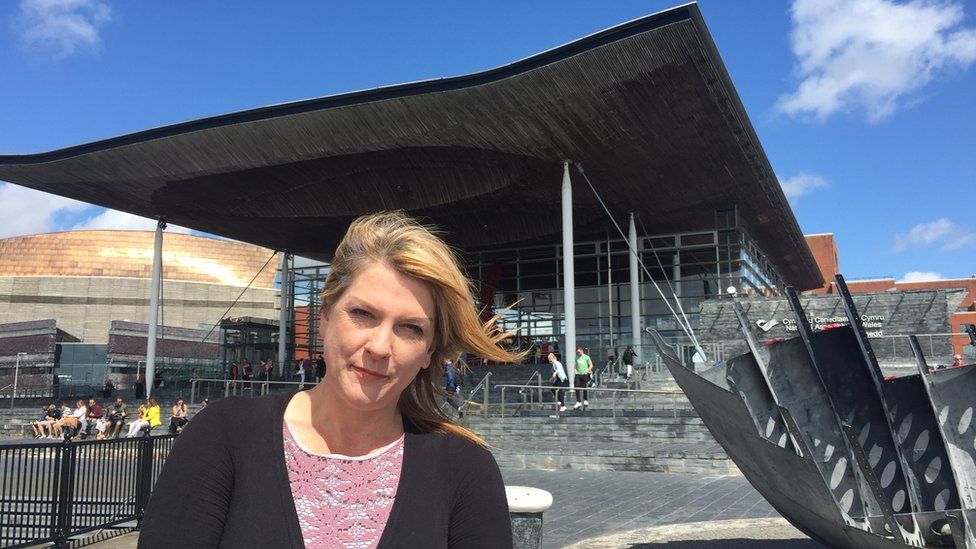 A Labour AM faces a two-week ban from the Senedd without pay after failing to give a breath test.
Rhianon Passmore was banned from driving by Newport magistrates on 12 February after she admitted failing to provide a specimen for analysis.
The assembly's standards committee has recommended she is excluded for 14 days.
The Islwyn AM has apologised, referring to "private struggles that I have found difficult to master".
The Labour group said it had withdrawn the whip from Ms Passmore - excluding her from the group - until 1 October.
Ms Passmore was arrested in September 2017. She said she had tried to drive to her mother's house after drinking two or three glasses of wine.
The former probation board member, who was elected in 2016, was given a 20 month driving ban, £1,000 fine and £100 victim surcharge while prosecution costs of £620 were awarded against her.
The committee's recommendation follows an investigation by the watchdog for assembly members, standards commissioner Sir Roderick Evans.
In written evidence to the commissioner, Ms Passmore said she did not deliberately fail to give a sample and was distressed after not being able to use her asthma medication properly.
In evidence to the standards commissioner, Ms Passmore said she had drunk two or three glasses of wine in Cardiff, having left her car at the assembly car park.
After collecting her car later, Ms Passmore said she suffered an asthma attack and took a high dose of medication, prednisone.
On her way to her mother's house her car broke down in the St Mellons area of the city and, while waiting for the AA breakdown service, the police arrived.
She was arrested and taken to a police station where she was asked again to provide a sample of her breath for analysis.
Again she tried, but was unable to do so, the report added.
The committee said such a breach of the code of conduct for AMs should carry a 21-day exclusion, reduced to 14 days because the member had shown remorse and referred herself to the commissioner.
Ms Passmore said in her evidence she did not know why she was unable to provide a sample.
"I did not intentionally fail to do so and it may be that my asthmatic condition was a contributory factor to my failure," she said.
Ms Passmore said that, during the process, she was "very distressed" - exacerbated because she could not access her medication.
When it was eventually offered "I was prevented from taking the required and necessary dose", she said.
"I believe this and the fear of my condition being left untreated and in addition to being in shock after the attack strongly contributed to being unable to provide a sample as required."
A doctor came to the police station to examine Ms Passmore, gave her oxygen and summoned an ambulance.
"On the way to hospital I was put on a post medication drip. I was detained in hospital until the Saturday afternoon," she added.
The proposed sanction will need to be approved by AMs before it comes into effect - it is expected this will take place on 18 July.
If a motion for her exclusion is passed, because of recess, the sanction will come into effect on 18 September.
In a personal statement on Monday, Ms Passmore said she assumed responsibility and accepted the committee's recommendation to exclude her.
"Whilst I could often be described in public as a self-confident female politician, I have had to encounter private struggles that I have found difficult to master," she said.
Ms Passmore added that she remained "committed to doing my job for the people who elected me, to the best of my ability".
Related Internet Links
The BBC is not responsible for the content of external sites.