Kinnock calls on Labour to commit to EEA Brexit model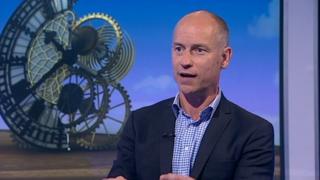 Labour should "commit wholeheartedly" to a Brexit model that would see the UK continue to make financial contributions to the EU and accept many of its laws, a leading Welsh MP said.
Stephen Kinnock was responding to the deal reached by the cabinet on Friday.
He said the so-called European Economic Area (EEA) model "gives the clarity and the certainty" needed.
But Labour leader Jeremy Corbyn has previously said this would leave the UK as "rule-takers not rule-makers".
Ministers signed up to a plan on Friday to create a free trade area for industrial and agricultural goods, based on a "common rule book" and a "combined customs territory".
But Mr Kinnock, a member of the House of Commons Brexit Committee, told the BBC's Sunday Politics Wales programme the agreement would begin to unravel as soon as "the practical details" were negotiated with the EU.
The Aberavon MP has always insisted the best model for the future relationship was in the EEA.
EEA membership is an arrangement that would see the UK retain full access to the EU's internal market of 300 million consumers in return for making financial contributions and accepting most EU laws.
Under what is known as the "Norway model" (Norway is one of three countries outside the EU which is an existing EEA member) free movement laws would also apply, so EU citizens can move to all EEA countries to work and live.
In the past, Labour leader Jeremy Corbyn has claimed the UK would be left as "rule-takers not rule-makers" if it remained in the EEA once outside the EU.
In May, he said: "We've made it very clear our whole strategy is that we recognise the result of the referendum, that we obtain a tariff-free trade relationship with Europe and that we develop a customs union to go alongside that.
"But the EEA, of itself, does not offer that because the EEA would not offer us any power to negotiate."