Brexit: Call for tariff-free UK-Irish trade at Cardiff port talks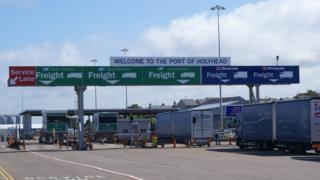 Freight and business leaders from Wales and Ireland are planning for "every eventuality" as they meet in Cardiff to assess the impact of Brexit on ports.
It comes as Prime Minister Theresa May tries to unite her cabinet on a plan for the UK's future trading relationship with the EU.
Ministers are divided over how closely the UK should stick to EU rules.
The British Irish Chamber of Commerce wants a customs partnership allowing borderless, tariff-free trade in goods.
Mrs May's commitment to leave the EU's Customs Union has raised questions over how to avoid border checks between Northern Ireland and the Republic of Ireland, and whether new customs checks will be needed at Welsh ports.
Business leaders have arranged Friday's event in Cardiff with the aim of reaching an agreed industry position by the end of the meeting to be relayed to the UK government and devolved administrations.
The chamber says Welsh ports currently handle more than 60 million tonnes of freight a year, accounting for 18,000 jobs.
Its UK Director Nina Slevin said the body "continues to push for a comprehensive Customs Partnership between the United Kingdom and the European Union enabling borderless, tariff-free trade for goods".
But she added: "However, it is essential that the Irish and UK ports and transit sectors prepare for every eventuality.
"By bringing together key stakeholders from these sectors, we are hoping to open up new lines of communications and develop best practices that ensure that the Brexit challenge is mitigated against as much as possible.
"While we continue to hope and advocate for the best outcome possible, we are simply being prudent by preparing a contingency."