Ex-Brexit minister has 'sour grapes' says Tory MP Bebb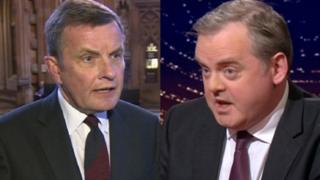 Welsh Tory MP Guto Bebb has attacked former Brexit Minister David Jones for criticising the prime minister's plan for future trade with the EU.
It came as cabinet ministers met on Friday to agree on the way forward.
Mr Jones said the proposals breached Theresa May's own Brexit "red lines" that the UK will leave the customs union and single market.
But Mr Bebb - a defence minister - said the MP had "sour grapes" and did not offer positive proposals of his own.
Mr Jones - the Conservative MP for Clwyd West - led the Vote Leave campaign in Wales, while Mr Bebb - who represents neighbouring Aberconwy - backed Remain.
It is the latest in a string of interventions Mr Bebb has made that are critical of Brexit-backing Tory colleagues.
He said: "It's a shame that a former DEXEU minister who, in a full year in office, failed to offer any coherent way forward now finds it acceptable to trawl the TV and radio stations attacking the prime minister for a plan he has not read.
"The lack of progress made during his year as a Brexit minister saw David sacked and a year later he still offers no positive proposals.
"Are sour grapes clouding his judgement?"
Cabinet ministers were meeting at the Prime Minister's country residence of Chequers on Friday in a bid to resolve splits on the shape of Brexit.
Ministers had been divided over how closely the UK should stick to EU rules.
Mrs May is expected to propose staying aligned with the EU on trading rules for goods but not services.
Any plan agreed by cabinet ministers will need to be approved by the European Union.
Mr Jones - who also served in the cabinet as Welsh secretary - had told BBC Radio 4's Today programme: "On the face of it - of course I haven't seen this document - it's not very good at all.
"The prime minister has made very clear that there are three principle red lines in these negotiations - no single market, no customs union and no jurisdiction of the European Court of Justice.
"It does seem to me that all three red lines would be breached by what has been proposed today."
In response to Mr Bebb, he said there was "no point in commenting".
In June, Mr Bebb attacked senior cabinet ministers for "inflammatory" and "unworthy" comments after Health Secretary Jeremy Hunt said threats from business over Brexit were "inappropriate".
The Aberconwy MP also criticised the then Welsh Conservative assembly group leader Andrew RT Davies, who had said Airbus exaggerated the threat of job losses from leaving the EU without a deal.
Meanwhile another Welsh Conservative MP has criticised pro-Brexit backbencher Jacob Rees-Mogg for increasing pressure on the prime minister to cut ties with the EU.
Carmarthen West and South Pembrokeshire MP Simon Hart tweeted: "Jacob, you don't speak for all of your colleagues or our voters.
"Brexit means leaving the EU in the most pragmatic, democratic and timely way.
"That means getting it through Parliament and ongoing negotiations. Simply making a list of demands is impractical and arguably arrogant."
'Something's got to give'
Speaking as the cabinet met at Chequers, Wales' first minister expressed his frustration at the way Theresa May limited her options on Brexit by calling an early election in 2017, and losing her parliamentary majority.
Addressing an assembly committee that scrutinises his performance, meeting in Aberystwyth, Carwyn Jones said there was a "sensible way of progressing".
"But the UK prime minister has painted herself into a corner because of what happened in the last general election," he said.
"It's a shame, because I think there would have been far more flexibility if she hadn't done that last year.
"We'll have to wait and see what happens. Something's got to give today, one way or another."
In June, Mr Jones urged the prime minister to "stand up to the hard Brexiteers", insisting UK ministers should "argue for a dynamic and positive relationship with the [European] Single Market".