Welsh Labour leadership: Ken Skates rules himself out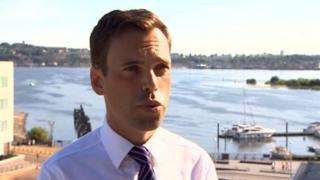 Economy Secretary Ken Skates has confirmed he will not run for the Welsh Labour leadership.
Mr Skates confirmed he will support frontrunner Mark Drakeford - saying he should be at the helm during Brexit.
Previously tipped as a potential leader, Clwyd South AM Mr Skates said he had considered entering the race.
But he added: "You can't just be the right person. You've got to be the right person at the right moment in time."
Mr Skates made the announcement jointly with Rural Affairs Secretary Lesley Griffiths, who is also backing Mr Drakeford.
It consolidates the finance secretary's position as the candidate with the strongest support among Labour AMs.
Twelve have declared for him - including Jayne Bryant who also announced her support on Wednesday - compared to four for Health Secretary Vaughan Gething.
So far no AMs have come out for rivals Huw Irranca-Davies and Eluned Morgan, who have also said they want to stand.
Candidates need nominations from five other AMs to get on the ballot paper.
Mr Skates said he had not cut a deal with Mr Drakeford, but they had talked about the policies he would pursue as leader.
"I certainly wouldn't rule myself out in a future contest," Mr Skates told BBC Wales.
"I did consider going for it and people have speculated on many occasions about who the next first minister, who the next Welsh Labour leader, might be.
"My name has often been mentioned.
"It's very flattering, but at the end of the day, this isn't about ego, it can't be about vanity.
"This is about the interests of the country and making sure that the best person for this moment in time is elected to be first minister."
Mr Drakeford, who has played a leading role in the Welsh Government's response to Brexit, has suggested he would serve around five years as first minister, saying he would stand down as leader some time during the next assembly term.
In a statement, Mrs Griffiths said she wanted a leader "who understands the need to address the growing sense of divide between the north and the south" of Wales.
"In looking for someone with all of the qualities I have outlined, I could only conclude that Mark Drakeford is that person and I am very happy to offer him my full support the forthcoming leadership election," she said.
Carwyn Jones will hand over the reins in December after nine years in the job.
Before that, Welsh Labour must sort out a dispute over the rules for the election.
A special conference in September will decide whether to stick to the party's electoral college.
It follows calls from within the party, including by Mr Drakeford, to adopt one-member-one-vote elections.