Our assembly leader should head Welsh Tories - Suzy Davies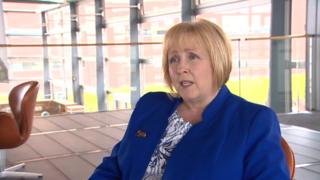 A candidate for the Conservative assembly group leadership has said the winner should be formally recognised as the party's leader in Wales.
South Wales West AM Suzy Davies triggered the contest on Tuesday, after Andrew RT Davies stood down last week.
Ms Davies told BBC Wales on Wednesday a conversation about the title was needed with the party's members and MPs.
Mr Davies was regularly described as Welsh Tory leader but under party rules officially only led its assembly group.
This contrasted with his Scottish counterpart Ruth Davidson, whose formal title is Scottish Conservative leader.
Speaking on BBC Radio Cymru's Post Cyntaf programme on Wednesday, Ms Davies said: "We now have a Senedd [parliament], the assembly has changed since 1999 and more powers have come from Westminster.
"It's important the party constitution keeps up with the country's constitution."
But she also admitted it would probably take some time to persuade everyone in the party that this was the way forward.
Andrew RT Davies was recognised as Welsh Conservative leader by former Prime Minister David Cameron.
But asked if she had confidence in the AM's leadership during last year's general election campaign, Mr Cameron's successor Theresa May told BBC Radio Wales "Andrew Davies is the leader of the Welsh Conservatives in the Welsh Assembly".
In a recent row over comments Andrew RT Davies made in response to a warning about Brexit from European planemaker Airbus, defence minister and Aberconwy MP Guto Bebb disputed his title as leader of the Welsh Conservatives saying he did not speak in such a capacity.
Preseli Pembrokeshire AM Paul Davies, interim leader of the Conservatives in Cardiff Bay, has also said he would like to stay on in the role.
Tory AMs need three other assembly members to support them before they can stand - meaning there can only be two candidates.
Nominations for the post of Welsh Assembly Conservative group leader close on 16 July. Postal votes are expected to be sent out to members on 15 August, with a declaration on 6 September.