Plaid Cymru councillors pledge support to Leanne Wood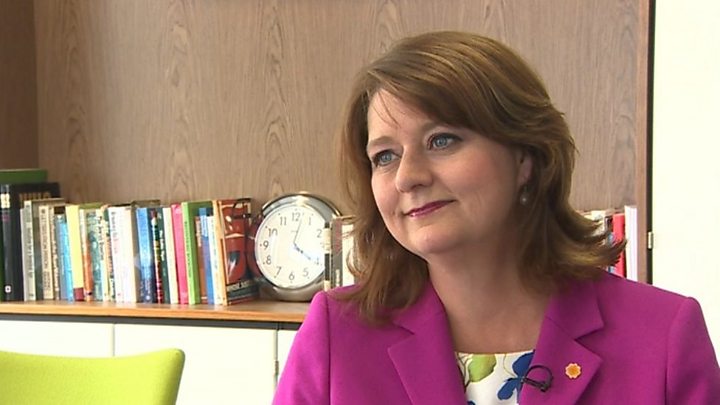 More than 50 Plaid Cymru councillors have pledged their allegiance to Leanne Wood as she faces a potential leadership challenge.
Ms Wood has said she will stand down if she does not become first minister at the next assembly election.
But she is facing a potential fight for the job, with AMs having until Wednesday to challenge for the leadership.
In a letter 53 councillors thanked her for her "tireless campaigning".
The group, from Gwynedd, Ceredigion, Conwy, Denbighshire, Wrexham, Anglesey, Neath Port Talbot, and Rhondda Cynon Taf councils, represent about a quarter of the total number of Plaid Cymru councillors across Wales.
Under party rules a window to challenge for the leadership comes around every two years, with AMs being able to put their names in the hat to try and get the top job.
But Ms Wood has not faced a challenge since being elected leader in 2012, and so far no one has stepped forward to fight for the position.
There has been mounting appetite within the party for a leadership challenge, with former Plaid leader in Westminster Elfyn Llwyd, calling for a change in direction for the party, and local constituency parties have called on Adam Price and Rhun ap Iorwerth to stand.
Meanwhile three AMs - Llyr Gruffydd, Sian Gwenllian and Elin Jones - have signed a letter calling for a competition.
But in a letter addressed to Ms Wood and seen by BBC Wales, 53 councillors from across Wales thank Ms Wood for her work "travelling across the length and breadth of Wales promoting the mission and the values of Plaid Cymru".
They argue that the local election campaign in 2017 under her leadership was "amongst the most successful in the history of Plaid Cymru".
In the letter they also say that the 2015 elections and 2017 elections were "successful" and that her "articulate the party's messages clearly and effectively was amongst the main reasons for those successes".
Despite losing 14 deposits and a fall in its vote share, Plaid Cymru won an extra parliamentary seat in the 2017 general election.
But the party's strategy in 2015, where they failed to win extra seats, was criticised by former party leader Lord Elis-Thomas, who later quit to sit as an independent in the assembly and is now a minister in Carwyn Jones's Labour government cabinet.