Caroline Jones confirms UKIP assembly leadership bid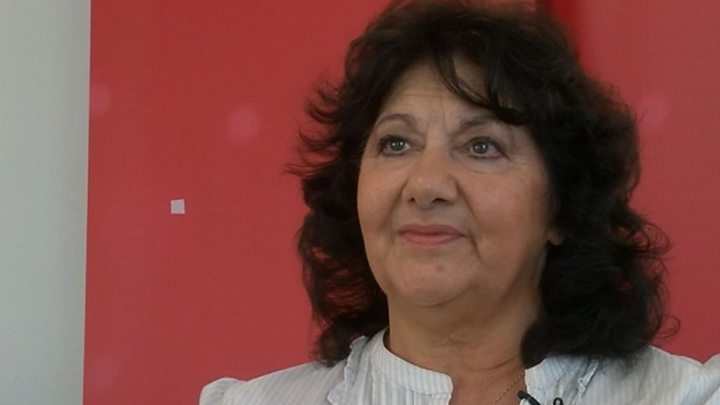 UKIP's leader in the assembly has vowed to avoid creating controversy "for the sake of being controversial" as she launches her bid to keep her job.
Caroline Jones has formally entered the party's assembly leadership contest. Up until Friday it was not clear if she was taking part.
She faces former leader Neil Hamilton - who she ousted in May - and Gareth Bennett.
Ms Jones said she offered a "positive approach towards politics".
The ballot of members was called by UKIP's central leadership in a bid to end infighting in the assembly group.
Caroline Jones became leader after she and two of her colleagues ousted Mr Hamilton last month.
"I offer a positive approach towards politics in the assembly. I work hard in my community," the AM for South Wales West said.
"I've never been negative in the assembly. I work collaboratively with other parties because, to be truthful, we're never going to take the assembly. We're never going to have a first minister of UKIP."
Ms Jones said: "I hope people look at me and think I have honesty and integrity, respect and dignity for everyone.
"I have never made unpalatable comments in the assembly of a personal nature".
She did not name any AMs in the comment, but Mr Hamilton was criticised for calling two AMs "concubines" early in the assembly term.
Ms Jones has also previously criticised Mr Bennett for a video that made derogatory comments about a Labour AM.
Ms Jones said she was a "force to be reckoned with" when she has an opposing view, but added: "I don't want to be controversial for the sake of being controversial."
She said she opposed Mr Bennett's view that the assembly should be abolished.
"I honour the people's vote for the assembly," Ms Jones said.
However, she added: "I don't think it's the time to be talking about having more assembly members.
"We are in times of austerity. That view I have put across quite strongly."
Analysis by David Deans, BBC Wales reporter
After initial comments from Caroline Jones saying she hoped to win over members in the UKIP ballot, there had been radio silence from her. It was unclear whether she was standing at all.
But a source close to Caroline Jones said that grassroots members - uncomfortable with the direction of the UK party - have urged her to fight for the job.
In particularly, the members were said to be unhappy with the recent admission to the party of radical right-wing social media figures such as Paul Joseph Watson of conspiracy site Infowars and Milo Yiannopoulos - something celebrated by Neil Hamilton in a recent Tweet.
Ms Jones would not comment on the matter on Friday, saying she had not heard of the individuals concerned.
Caroline Jones's comments do, however, put clear purple water between herself and her rivals - implicitly criticising the kind of controversy that Mr Bennett and Mr Hamilton have courted.
Ms Jones said she would "always be a member of UKIP" and would stay even if Mr Hamilton or Mr Bennett won the leadership ballot.
"I would never throw my teddy out of the pram if I didn't win anything," she said.
The ballot is expected to be complete by the end of July, although a precise date for when voting starts is yet to be published.
Estimates put the number of members in UKIP in Wales at between 800 and 1,000.