No forced council mergers, says local government secretary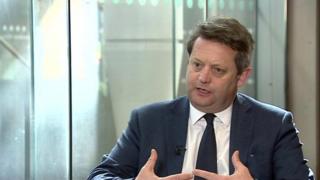 Wales' 22 local councils will not be forced to merge, the local government secretary has said.
Alun Davies told council leaders he was "happy to withdraw the map" on re-organisation, which proposed 10 new council areas.
Last November, Mr Davies gave local authority bosses the ultimatum: "Change or we will change you!"
But on Thursday he told the Welsh Local Government Association he wanted to "work together" in equal partnership.
Addressing the association's annual meeting in Llandudno, Mr Davies agreed with council leaders that the current number of local authorities was not sustainable.
He added that he wanted to bring forward legislation which would be "agreed by both local and national government for a more fundamental change to how the two interact in future".
Welsh Conservative local government spokeswoman Janet Finch-Saunders said she welcomed the map's withdrawal but urged Mr Davies to "take the local government sector with him" as he developed his new proposals.
"Full and open public consultation throughout any reform proposal process is essential," she said.