Andrew RT Davies steps down - revenge of the Remainers?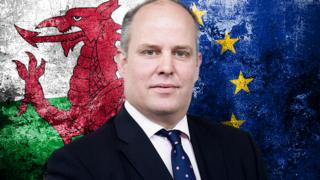 A lot has been written today about a well-orchestrated coup to remove Andrew RT Davies as leader of the Welsh Conservative assembly group. This might shed new light on that assumption.
Things really started to annoy him over the weekend. Tweets were appearing suggesting the knives were out.
They came after a senior colleague accused Mr Davies of making inflammatory remarks over concerns of Airbus about Brexit.
As tensions rose he wanted to thrash things out with colleagues and yesterday arranged a meeting of the assembly group for this morning.
There were a couple of dinners last night which I'm told were attended by Conservative AMs. We can only speculate if they discussed tactics over drinks. But they all knew what a crucial meeting it would be.
Andrew RT Davies, I'm told, gave everyone a chance to speak but no vote was taken. There wasn't a majority that would "kill him off" today is one account from the meeting. He could have carried on for another 12 months, said one source.
One AM was, however, particularly animated and "stormed out" after giving the leader the once over. Such behaviour had never been witnessed before, according to someone in the room.
So why has he gone?
There have been requests from both ends of M4 for the leader to soften the Brexit narrative. How ironic it is that Andrew RT Davies's greatest personal achievement - backing the winning side in the referendum - has also led to so much criticism.
There was a feeling that elements of the party in Westminster, Cardiff Bay and party officials had been chipping away at him. I just get the sense he's had enough after realising the group were not fully behind him.
He told the meeting it wasn't fair on him or on staff.
The group in the bay is also now left without a chief of staff or senior press officer, and interviews for head of media which were scheduled for tomorrow have been cancelled. "They haven't thought this through", said someone close to events.
So what next?
Paul Davies - the firm favourite to be the new leader - has taken temporary charge. It looks like a coronation as things stand. That said, a source said it would be a bad look and an unsatisfactory outcome because without the backing of the membership you are no more than chairman of the group.
For the record, both Davieses get along - Andrew respects Paul and there are no hard feelings.
One AM thinks both the departing leader and his probable successor have been "played" by people outside the group.
And what of Paul Davies?
"We need a 21st Century politician," said a Tory insider. "Not the time for man in a beige suit."
"He doesn't even have a Twitter account," said another.
It is a real conundrum for the Tories. Do they go for the safe pair of hands, a Remainer who's open to working with Plaid Cymru?
Or do they want someone more aligned to the membership - someone who's chipper, Leave-supporting and sceptical about working with nationalists?
If it's the latter, they might live to regret today.