What went wrong for Tory assembly leader Andrew RT Davies?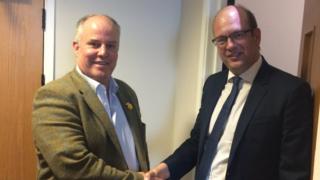 We don't know, yet, what happened in the moments before Andrew RT Davies submitted his resignation as Welsh Tory leader in the Senedd.
But the road to the end of his leadership was laid in the decision to introduce a Brexiteer former UKIP AM hated by Conservatives to his assembly party group a year ago.
Andrew RT Davies - a farmer from the Vale of Glamorgan - became an AM in 2007 and took over the group in 2011 following a contest with Nick Ramsay.
The jovial Conservative portrays himself as the ultimate anti-politician politician, frequently telling journalists he does not need the Cardiff Bay establishment.
Mr Davies has attempted to forge an independent path for the Tories in Wales - he cannot be accused of always passporting the line down from his colleagues in Westminster.
This resulted in the first big row of his leadership, in 2014. When Mr Davies asked his party colleagues to back Wales having more flexibility on income tax than the coalition UK government was offering, some of his AMs rebelled.
His pitch for the Senedd election of 2016 included cutting taxes and raising speed limits.
But the campaign failed to produce the kind of results that his party had seen the year before in the 2015 general election in Wales, and actually resulted in a loss of seats.
In the referendum that came shortly after he decided to back Leave - opposing David Cameron's Remain stance - and ended up being on the winning side.
But it was the decision to allow Mark Reckless, the former UKIP AM, to join the party group that sparked rumours of a challenge to Mr Davies that have persisted ever since.
Mr Reckless is disliked by many Conservatives for defecting to UKIP before a party conference in 2014 - designed to cause former prime minister David Cameron lasting damage.
His inclusion with the Tories in the Senedd caused a storm, spurring internal conflicts both within the group itself and the larger party.
MPs queued up to criticise Mr Davies, apparently with the backing of Conservative headquarters.
'Water will flow'
That was followed by anonymous calls from MPs and officials for him to be sacked or removed from office.
One source told BBC Wales' Arwyn Jones: "Water will flow under the bridge before we do anything - but that water will drown Andrew RT Davies."
Obvious threats to his leadership had appeared to ebb away over time, but in reality the animosity that decision generated never went away.
Problems between Westminster Tories and Mr Davies also deepened after he fell out with the Welsh Secretary Alun Cairns over who of the two senior Welsh Conservatives should represent their party in 2017 general election debates.
As a result of the farce Tory AM Darren Millar ended up taking the helm for the party in the BBC Wales general election debate.
The latest big bust-up came just last week, when Mr Davies accused Airbus of making exaggerated threats over the risk of job losses from a no-deal Brexit.
Guto Bebb, MP for Aberconwy, said the comments were "unworthy" of someone who wanted to be first minister and he said he was not leader of the Welsh Conservatives.
His staff have often used the title, citing David Cameron as having bestowed it on him, but it has never been written into the party constitution.
Was Mr Bebb's intervention a prelude to moves to push Mr Davies out of the position?