Plaid no confidence motion in Cairns over lagoon defeated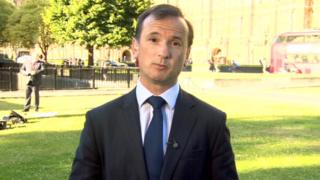 A no-confidence motion in Welsh Secretary Alun Cairns in the Senedd has been defeated by assembly members.
The motion against the Conservative UK minister did not have the support of Labour Welsh ministers in Cardiff.
Plaid Cymru tabled the vote after Mr Cairns' government failed to support plans for the Swansea Bay Tidal Lagoon.
The motion, if it had passed, would have only been symbolic. AMs cannot remove Mr Cairns, who is not a member of the assembly.
Mr Cairns has said the tidal lagoon "did not meet the threshold for taxpayer value" despite months of work by officials.
A total of nine AMs backed the no-confidence motion, versus 40 against.
Instead a Welsh Government amendment criticising Mr Cairns for failing Wales, but not going as far Plaid, was passed 31 votes to 18.
In a Senedd debate on Wednesday, Plaid Cymru leader Leanne Wood said: "Railways not electrified, bridges renamed in the name of the colonial prince, the tidal lagoon scrapped - that is what is being delivered by the secretary of state in Wales.
"He is Westminster's voice in Wales and not Wales' voice in Westminster."
Referring to the lagoon and the cancellation of electrification between Swansea and Cardiff, Plaid Cymru AM Simon Thomas said: "If there are two manifesto commitments in your manifesto for election for which you are the cabinet secretary responsible for, and you don't deliver on them, do you then carry on?"
The Conservatives backed their party colleague Mr Cairns.
Newly installed interim leader of the Welsh Conservatives group Paul Davies said his colleagues shared the disappointment about the lagoon announcement, made on Monday.
He said it is "only appropriate that we take the opportunity to be a little more objective and recognise some of the positive outcomes delivered by the Secretary of State".
But he said Alun Cairns had delivered "very good outcomes", citing the fiscal framework funding deal with the Welsh Government and the abolition of Severn crossing tolls.
"What would Plaid Cymru do if Westminster sought to pass a vote of no confidence in the first minister," said Tory AM and former deputy presiding officer David Melding.
He called the motion "constitutional nonsense" and silly politics".
UKIP group leader Caroline Jones called for the secretary of state "to be less of a yes man", saying she and people in her constituency were devastated by the lagoon decision.
She backed the Welsh Government amendment.
"This is a government with form when it comes to saying no to Wales," said Welsh Government finance secretary and Labour AM Mark Drakeford.
He said there was little that Labour AMs would have dissented from in Mr Thomas' comments, but said it did not make the best sense to pass no-confidence motions of people who are not AMs.
"I do not believe we set up the National Assembly for Wales to be an outpost of gesture politics," he added.
Plaid's motion proposed that the assembly "no longer has confidence in the secretary of state for Wales to deliver major infrastructure projects, following the decision of the Westminster government not to support the Swansea Bay tidal lagoon".
It added that the assembly "has no confidence in the post of the secretary of state for Wales and believes it should be abolished and replaced with a properly constituted UK council of ministers with shared and equal decision-making powers".