Healthy meals for children to tackle obesity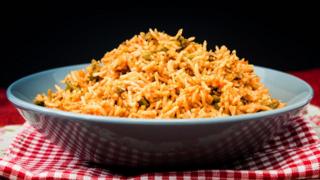 Biryani, lamb tagine, pasta primavera and cod curry are on the menu at nurseries to help young children maintain a healthy weight.
The new recipes have been prompted by concern that around a quarter of four and five-year-olds are classed as overweight or obese.
Children in full-time care may be getting 90% of their food intake there.
Wales Health Secretary Vaughan Gething said nutritious food would set the foundation for their future wellbeing.
The guidance - aimed at regulated childcare settings which include nurseries and some childminders - proposes a range of meals aimed to "develop good eating habits".
It recommends age-appropriate portion sizes and snacks with little or no sugar and salt.
Example meals for children aged 1-4 years
Breakfast: Porridge and raisins; Malted wheats and milk; Yoghurt, fruit and cereal pots - just water to drink
Mid-morning snack: Carrot and pepper sticks; Rice cakes with cream cheese; Wholemeal pitta fingers with mint raita and cucumber sticks - milk or water to drink
Lunch: Pork, leek and mustard casserole; Lamb pearl barley hotpot; Haddock ratatouille - just water to drink
Mid-afternoon snack; Banana on toast; Pitta bread and tzatziki with pepper sticks; Crumpets with spread and grapes - milk or water to drink
Tea: Homemade mackerel pate; Parsnip, butterbean and apple soup; Roast vegetable and red lentil pasta - just water to drink
Ministers have launched a 12-week consultation on the standards, which include proposed meals for infants aged seven to 12 months.
The Welsh Government said children in full-time care may be receiving up to 90% of their food intake there.
Mr Gething said: "Eating nutritious food is essential for children in their early years.
"This helps to achieve healthy growth and development, protect teeth from decay and sets the foundations for their future health and wellbeing.
"Nutrition guidelines are only one element of this government's work to prevent and reduce levels of obesity."