Jeremy Hunt Airbus Brexit remarks criticised by Tory minister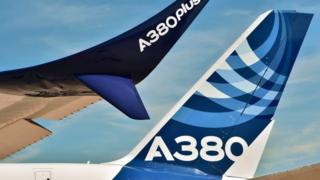 A UK defence minister has attacked Cabinet ministers for "inflammatory" attitudes towards business over Brexit.
On Sunday UK Health Secretary Jeremy Hunt said threats from business over Brexit were "inappropriate".
Guto Bebb did not name Mr Hunt but suggested such comments were "unworthy".
His comment follows his earlier criticism of Andrew RT Davies for saying Airbus was exaggerating the risk of job losses if there is no EU deal.
He reiterated the earlier rebuke of Mr Davies, saying the Welsh Assembly conservative leader would be better representing Wales rather than relighting the referendum campaign.
Airbus warned it could leave the UK if it exits the European single market and customs union without a transition deal, putting thousands of Welsh jobs under threat.
Mr Bebb, a Conservative MP for Aberconwy in north Wales, serves in the same government as Mr Hunt.
"The dismissive attitudes shown towards our business community by senior Cabinet ministers is both unworthy and inflammatory," said Mr Bebb.
"Business wants a good deal and so does the government. Do the leadership aspirations of multi-millionaires trump the need to listen to the employers and employees of this country?
"It is perhaps understandable that a key part of the economic powerhouse that is north east Wales can be belittled by those with a London centric world view but Andrew aspires to speak for all Wales.
"He should do that rather than keep fighting a campaign he won in 2016."
Andrew RT Davies defended his stance on Friday saying it was the UK government position.
Mr Davies earlier told the Sunday Politics Wales programme: "I would suggest the comments I made on Friday were similar to what Jeremy Hunt said on Andrew Marr today.
"This is a time for working with the UK government to have a united position
"The disservice would be moving production to China."
He said he was a "little surprised" to see Mr Bebb's response.
"Guto and myself will no doubt meet up shortly and have a pint over this and talk it through," he said.
"The comments that I said on Friday... is the UK government's position," Mr Davies said.
Mr Bebb had also disputed Mr Davies' title as leader of the Welsh Conservatives, and said he does not speak in such a capacity.
Mr Davies leads his group of AMs in the Welsh Assembly, and in his own publicity he is referred to as leader of the Welsh Conservatives.
However when asked about the matter a UK Conservative spokesperson suggested this was not correct, describing Mr Davies as "the leader of the Welsh Conservatives in the assembly".
Senior Welsh Tory AM Suzy Davies told BBC Radio Wales' Sunday Supplement programme Mr Davies has "always been, as far as I know, allowed to call himself leader of the Welsh Conservatives.
"I don't think that's the main issue here."
"I don't think you can extrapolate from the fact that Guto Bebb had some hard words over the weekend to suggest that there is some sort of major fall out between the assembly group and the UK government because that's clearly not the case," she said.
Asked if Andrew RT Davies would be leading the group a year from now, Ms Davies said: "Oh I'm pretty sure so, yes."