£12m mentoring plan to help unemployed in Wales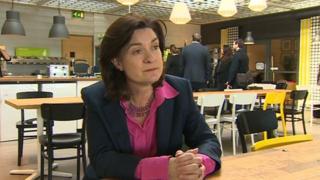 A cautious welcome has greeted news of a £12m boost in a programme to end "generations of unemployment" in Wales.
Communities for Work Plus aims to support other training schemes by providing "intensive mentoring".
But the Bevan Foundation think tank questioned whether "the expenditure is enough to make real impact".
Welsh Language and Life-Long Learning Minister, Eluned Morgan, said an "individualised approach" was needed to help some people.
The scheme is to focus on helping those "furthest from the jobs market into work", particularly families where generations have not worked.
It is part of the Welsh Government's employability plan to reduce the number of people who are not in education, employment or training (NEET), increase the number of disabled people in work, and eliminate the qualification gap between Wales and the rest of the UK.
Victoria Winkler from the Bevan Foundation said: "It needs to be coupled with attempts to stimulate creating more jobs and attempts to encourage employers to take on people who have been out of the workforce for some times a considerable time.
"We know we have got thousands of people who are out of work."
Justine Jones, an actress and TV presenter from Merthyr Tydfil, told BBC Radio Wales' Good Morning Wales programme, that unemployment in the area "has been highlighted so much in the Press and has given the town quite a negative feel over the years".
"They have not wanted to be out of work these people... the jobs just weren't there.
"It's very difficult, I think, for people when you haven't had a purpose to get up in the morning for such a long time without any help and guidance."
She said that children seeing parents and grandparents out of work becomes a "vicious circle and a has knock on effect throughout the family".
"This money is fantastic and I'm so pleased it is there. My concern is that it is a little bit too little money and is a little bit too late," she said.
The Minister for Welsh Language and Lifelong Learning Ms Morgan launched the scheme whilst visiting Seion Newydd in Morriston, where Swansea Council's Communities for Work Plus team was holding a community drop in session.
She said: "The employability plan, which I launched earlier this year, recognises that some people experience barriers which prevent them entering work and advocates an individualised approach to helping those furthest from the jobs market into work.
"Communities for Work Plus is a perfect example of this approach, supporting people to undertake further training or providing practical help and advice to people to support people in achieving their aspirations."