'All women I know have had unwanted sexual attention', says Wood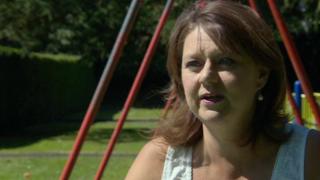 Every woman I know has experienced unwanted sexual attention, Plaid Cymru leader Leanne Wood has said.
Ms Wood made the remarks after staff working for AMs made two claims of sexual assault against unnamed BBC staff and one against an unnamed AM in responses to a questionnaire.
She told the Sunday Politics Wales programme inappropriate behaviour was a problem beyond politics and the media.
"It's so rife and accepted throughout our society," she said.
The anonymous allegations against BBC staff and an AM were made in research by BBC Wales Live, published last Wednesday.
"Every woman that I know has had to put up with unwanted sexual attention in one form or another at some point during their life," Ms Wood said.
"It's so rife and accepted throughout our society, that is the problem. And that is the culture we have to change."
The Rhondda AM said she welcomed changes to rules governing how assembly members have to conduct themselves - voted through the Senedd in May - but insisted there was a long way to go to tackle the situation.
"We've only started to prise open the crack a little here," she said.
"There's an incredible amount of work to do to change that culture; to get to that point where my 13 year old daughter and her friends don't have to put up with some of the behaviour that people in my generation have had to."
Ms Wood had told the Hay Festival that the level of abuse aimed at women is the worst she has ever seen.
In a blog for Nation.Cymru last year the Plaid Cymru leader admitted that her party in the past "may not have treated cases of harassment with the seriousness with which they deserve".
She issued a "formal apology to anyone who has complained to Plaid Cymru in the past and didn't have appropriate or sufficient action taken".
An assembly survey of staff at the institution found 37 people had experienced incidents of inappropriate behaviour.
President officer Elin Jones had told BBC Wales that the findings were "pretty sobering".
Ms Wood, meanwhile, is welcoming a possible leadership challenge as two Plaid constituency parties have called for their local assembly members to launch a bid.
Carmarthen East and Dinefwr has nominated Adam Price while Ynys Môn has backed Rhun ap Iorwerth to stand against Ms Wood.
"There are no other parties where the position of leader comes up for re-election every couple of years," she said.
"So it's quite good I think that members of the party get an opportunity to refresh the leadership.
"I've been leader for six years so it's a good time I suppose given that we don't have elections around the corner to be having this discussion.
"I know there are people in the party who think that we could take a different direction perhaps, maybe move towards the centre ground. and you know there is an argument to be had and a debate to be put forward about the general direction.
"A leadership contest would enable us to do that."
Sunday Politics, 1100 BST, BBC One Wales