Selling of puppies in pet shops could be banned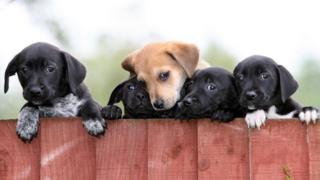 A possible ban on puppy sales by pet shops and other third-party dealers in Wales is being considered.
It would mean people buying a dog would only deal directly with the breeder.
Rural Affairs Secretary Lesley Griffiths told AMs the move was "worthy of investigation" and said she would discuss the options with officials.
In February, UK government Environment Secretary Michael Gove announced he was considering imposing such a ban in England.
In a statement to the assembly on Tuesday, Ms Griffiths also announced a review of microchipping regulations and said the extension of the rules to include cats would also be considered.
"Embedding a culture of responsible ownership cannot be achieved in isolation and I am grateful for the dedication and passion shown towards animals in Wales," she said.
"There is always more that can be done but we are proud, as a nation, to be leading the way in raising standards of animal welfare."
Ministers said revised codes of practice for horses and dogs would be published by the end of July and a consultation on a revised cat code would start in the autumn.
RSPCA Cymru gave a warm welcome to the announcement, which it said could lead to "significant progress" in enhancing animal welfare standards across the country.
Claire Lawson, RSPCA Cymru assistant director of external relations, said: "Wales was the first country in Great Britain to bring forward more up-to-date regulations on the breeding of dogs."
"By ending third party sales, and in conjunction with Wales' unique dog breeding regulations, we can bring an end to the illegal puppy trade and end this multi-million pound business, which continues to bring misery to thousands of puppies, bitches and their new owners."