Welsh assembly whistleblowers feared 'backlash'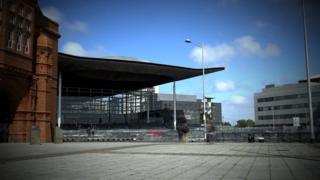 In the week when the Welsh assembly revealed how widespread inappropriate behaviour is in the corridors of power, we've released the results of our own questionnaire.
It suggest such behaviour isn't just confined to the politicians, but also the BBC.
I've been talking to many people, mainly women, about the difficulties of speaking out against harassment and bullying.
I spoke with several women in public life about their experiences, and it made for difficult listening. I was told: "If you're regarded as a strong woman, they go for you. There is a level of misogyny."
One of the most striking features of the discussions was how unwilling the women were about speaking publicly.
Some of that is a result of fear about the "backlash", but there are other reasons too.
In the past we've reported that harassment was going on "all the time" at the assembly, but elected politicians just didn't know how to deal with it.
One quote from discussions I had with a former AM has stuck with me, which relates to how small the 60-member assembly is: "When you see someone behaving inappropriately, you're likely to know that person.
"We tolerated things we shouldn't and turned a blind eye. But there wasn't a clear procedure for dealing with problems."
That's clearly a big part of the problem in Cardiff Bay - there's a bubble, and it's a very small one.
Whereas in Westminster there are 650 MPs and thousands of various support staff, clerks and research officials, it's not really the same in the Senedd - it's a more tightly-knit institution which is a tenth the size of the UK Parliament.
One woman, who has spent a lot of time working with the assembly, witnessed an AM acting inappropriately towards a colleague and wanted to raise a complaint, but was urged not to.
"'Don't rock the boat' - that's what I was told by someone who is familiar with the workings of the assembly on more than one occasion," she said. "It's more likely to harm your career or expose you to personal harassment, than result in justice."
This will sound familiar to anyone who has followed how the #MeToo and #TimesUp movements highlighted appalling examples of sexual harassment by those in power.
AMs have been looking at how they can improve the rules governing how they should conduct themselves. The evidence they've been given has been revealing.
For example, the Third Sector in Wales - charities and social organisations - rely on their relationships with AMs. Many are also funded, in part, by the Welsh government, either directly or indirectly.
Welsh Women's Aid, an umbrella organisation for violence against women, domestic abuse and sexual violence services, told me: "Concerns have been raised with us about the deliberate or unintended consequences of challenging people in power or close to those in power.
"It is possible that an individual may feel that by making a formal complaint, they could be harming the position of their organisation and the survivors who they work with every day to protect."
They also raised concerns about events surrounding the death of sacked Welsh government minister Carl Sargeant and added: "This was unfortunately the case for women associated with the recent complaints regarding the late Carl Sargeant, and although they remained anonymous, there was evidence of victim blaming in the public domain which might deter women from pursuing complaints or from coming forward in future."
Based on the evidence they've received, in March the assembly's Standards Committee said it needed more time to consider how to proceed and has bought in an independent advisor to help it.
One member of the committee told me they were "quite taken aback" by what they heard and wanted to make sure they got the correct procedures in place.
But two women who have suffered sexual harassment at the assembly have told me they think the institution is dragging its heels.
Having engaged with the presiding officer, Standards Committee and the standards commissioner, they say there's a lack of urgency. They say "the system has failed" when it comes to dealing with complaints of harassment.
One told me: "Does anything AMs have done over the past six months mean the assembly is a no-go area for sexual harassment? The answer is no."
Changing that perception will be one of the biggest challenges facing the assembly. But a culture of "not rocking the boat" might be more stubborn to overcome.
Wales Live, BBC One Wales on Wednesday at 22:30 BST