UKIP's Neil Hamilton in second bid for Senedd job he was blocked from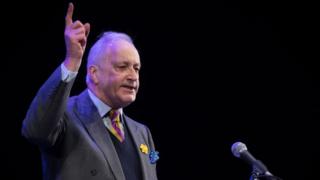 UKIP in the Senedd is to nominate Neil Hamilton for a top paid job in the assembly's administration again, despite a majority of AMs blocking him from the post just a week ago.
The former UKIP leader in Cardiff Bay was said to be unsuitable for the assembly commission because he failed to back a policy on harassment.
Mr Hamilton called the decision to reject him a "great mistake".
He said UKIP would simply renominate him again if he is blocked again.
Mr Hamilton was nominated for the commissioner role by UKIP after he lost the leadership of its group to Caroline Jones in May.
The AM for Mid and West Wales and the former Tatton Conservative MP is also challenging Ms Jones again for the leadership through a ballot of members.
Last week 31 AMs - mostly from Labour and Plaid Cymru - voted against the UKIP nomination for the commission.
Mr Hamilton's decision to abstain in an earlier vote on a harassment policy for the assembly had motivated the objections.
The proposal to resubmit Mr Hamilton risks a repeat of that vote, and some of the AMs who voted against the move last week told BBC Wales they could see the same happening again.
Speaking to BBC Wales after he announced he would be standing, he said: "The UKIP group decided [on Monday] that my name would be resubmitted to the assembly."
"This is a UKIP place [on the commission] - we're not prepared to allow the Labour Party and Plaid Cymru to determine who the UKIP representative is," he said.
"Otherwise all small parties could be a in position where the Labour Party could decide who their representative is.
"Is Plaid Cymru really wanting to put itself in that position, that Tories, UKIP and Labour could combine to choose somebody else in Plaid Cymru other than Adam Price to be a commissioner?"
He said it was a "great mistake to politicise this".
The post has "never been opposed on party political terms in the past", he said.
"I think its a backward step for the assembly. A commissioner is effectively a trustee for the assembly - its a non-political post."
Mr Hamilton said if it was rejected UKIP would "resubmit it and just keep on resubmitting it".
It is understood, however, that it would be up to the group to decide if he was resubmitted if the attempt failed again.
The decision to vote down Mr Hamilton's nomination left the assembly commission - a body which all party groups in the Senedd are meant to have a member - without a UKIP representative.
Ms Jones had fulfilled the role before she became group leader.
Hefin David, Labour AM for Caerphilly, said Mr Hamilton did not have the confidence of the assembly as a potential commissioner.
"Unless that changes after a vote, he cannot take up that role," he said.
Dawn Bowden, Merthyr Tydfil Labour AM, said: "This is a view supported by most Labour AMs.
"It was not about blocking a UKIP AM, it was about not giving support to an AM who did not have the trust and confidence of the assembly."
Assembly commissioners earn more than ordinary backbenchers.
If Mr Hamilton is eventually successful in his bid, he will gain an extra £13,578 on top of his £66,847 basic backbench AMs' salary, bringing his total pay to £80,425.
He had earned £85,000 a year as group leader until he was replaced by Caroline Jones.
Mr Hamilton's re-nomination would need to be submitted to the assembly's business committee, before any vote takes place.