Assembly harassment survey pretty sobering, presiding officer says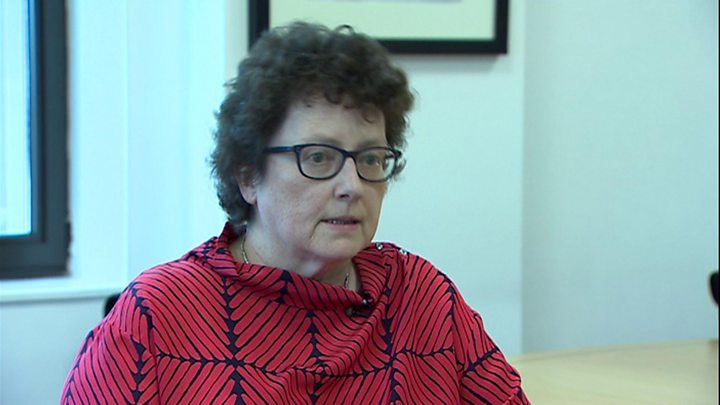 Inappropriate behaviour is a serious problem at the Welsh Assembly, the presiding officer has said.
Elin Jones was talking to BBC Wales after a survey of staff and AMs found 37 people had experienced incidents.
Another 37 who experienced or witnessed inappropriate behaviour said they did not report it.
Among the reasons given for not pursing a case, some said it involved a more senior official or AM who they thought the assembly would side with.
The Assembly Commission - the body which runs the assembly - undertook an anonymous and confidential survey between April and May, which was open to commission staff, AMs and their support staff.
In total, 128 responses were received with a participation rate of 16.8% - around one in six.
Thirty two people said they had experienced inappropriate behaviour on multiple occasions either in their work as a member of staff for the commission or for an AM or assembly party group.
A further five said they had experienced inappropriate behaviour on one occasion.
The number of respondents who said they had never experienced inappropriate behaviour was 69.
A total of 29 respondents said they had observed inappropriate behaviour on "multiple occasions" while 13 said they had seen it once.
Ms Jones told BBC Wales the findings were "pretty sobering".
"Yes, there's a problem and it is serious," she said.
"I take the results of this survey very seriously as the presiding officer of this place.
"There are far too many individuals who have said to us that they have experienced inappropriate behaviour."
While she had not witnessed it herself, the presiding officer said she was "aware of inappropriate behaviour".
"I'm aware, of course, of women who have spoken publicly about inappropriate behaviour against them," she said, "and I am aware of others who have experienced sexually inappropriate behaviour against them who may have raised this with their political parties. It may have been dealt with in some form."
Asked whether the survey results surprised her, Ms Jones said: "Probably not. It upsets me that it has happened."
She referred to bullying, intimidation or sexual harassment as examples of inappropriate behaviour covered by the survey.
She said that the culture in Cardiff Bay had allowed too many people to experience inappropriate behaviour - and it had to change.
The assembly has trained AMs and managers, showed staff how to seek support and had appointed contact officers so victims had "somebody they can go to".
Ms Jones said she was not aware of complaints against any AMs, but she would not necessarily know about cases anyway as it was handled separately by the assembly's standards commissioner.
In May, the assembly passed a new dignity and respect policy that tries to regulate AMs' private and public conduct.
'Safe place'
Plaid Cymru leader Leanne Wood said she was "alarmed but not surprised" by the survey report, adding: "We can do better.
"We must send a clear message to anyone who comes forward with concerns or disclosures about sexual harassment, bullying or abuse: we will listen to you, we will support you and we will take appropriate steps to investigate any complaints."
UKIP group leader Caroline Jones - who was an assembly commissioner at the time of the survey - said: "We all have a duty to ensure that everyone within the assembly is treated with respect and dignity at all times."
A spokesperson for the Labour group said the assembly "should be a safe place for everybody".
"It is crucial that all of those who responded are listened to and that all complaints are investigated," the spokesperson added.