Neil Hamilton in bid to win back UKIP Senedd leader job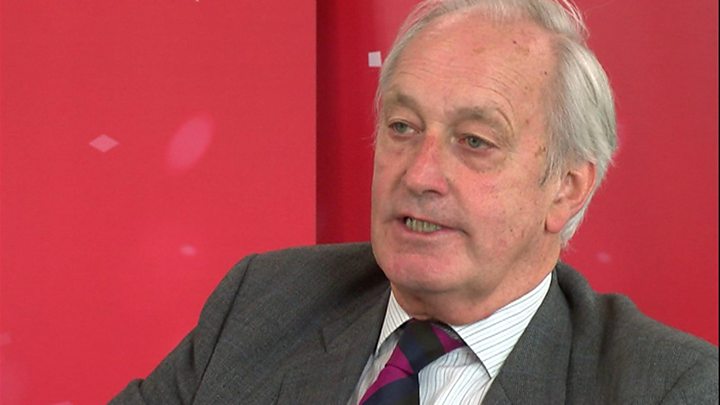 Neil Hamilton has confirmed he will fight to win back the position of UKIP's Welsh Assembly group leader in a ballot of party members in Wales.
UK deputy leader Mike Hookem informed AMs of the vote in a meeting on Monday.
Mr Hamilton said he is the only member of the party's team of five that can take on First Minister Carwyn Jones.
It is expected that Caroline Jones, who with two other AMs ousted Mr Hamilton only a month ago, will also run in the contest in July.
The former Tatton Conservative MP, who served as party group leader in the Senedd since 2016, said his eviction as head of the group had been "underhand".
He said the vote was the only way to move on from the "infighting" that has dogged the party in the assembly.
"I'm the only member of the group that can take on Carwyn Jones on equal terms in the chamber," he told BBC Wales.
"I've had 40 years of experience in politics. I'm the only member of UKIP who has actually been a government minister.
"I've got a wealth of experience and knowledge that I want to use for the benefit of UKIP, and ultimately for the benefit of Wales."
The decision to hold a ballot was endorsed by the central UKIP party, according to Mr Hamilton.
Mr Hamilton said UK party leader Gerard Batten was "fed up with all the infighting that's going on "not just here in Cardiff, but also with the MEPs in Brussels as well, and in local councils up and down the country".
"UKIP groups were elected four years ago and all too often they fell apart, because of egos, personal ambitions and general stupidity.
"If we are to be a functioning and professional party, we've got to get a grip on all this.
"That's what I've tried to do as leader in the Senedd and it's all been undermined by recent events."
Mr Hamilton's ousting came about after party assembly colleagues David Rowlands, Michelle Brown and Caroline Jones decided they wanted him out.
He said the "coup" was "underhand and clandestine" and had created a "lot of ill-feeling".
"Naturally we're a small group of five. We have to work together or UKIP as a party in Wales falls apart, so we have to find a practical solution to this difficulty," he said.
"And an election by the party members who are actually our bosses, in a sense, I think is the obvious way forward."
He estimated the party had around 1,000 members "or so", which he said was a testament "to the damage that has been done to all the people that have damaged UKIP as a party".
The announcement of the ballot came on the same day that Mandy Jones was suspended from UKIP after criticising the nomination of Mr Hamilton to the assembly commission.
Her actions triggered a vote on the appointment, which UKIP lost.
Mr Hamilton called for her to be expelled "for her gross disloyalty".
The AM is not a part of the UKIP group - she was blocked from joining it earlier in the year - but she is a party member.
"I don't think she is in any way a loyal UKIP member," he said.
"And her behaviour last week proved it."