UKIP members to be balloted on Welsh assembly leader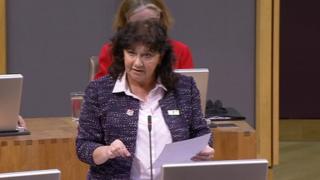 UKIP party members are to be balloted on who should be leader of the party's assembly group.
The move could see Caroline Jones - who has only been leader since May after she ousted Neil Hamilton - replaced.
She told BBC Wales the party's UK deputy leader Mike Hookem informed the group of five AMs about the vote in a meeting on Monday.
Ms Jones hoped she will win members' support, but said she did not know why a ballot had been called.
Her assembly colleague Gareth Bennett - who is a supporter of her rival Neil Hamilton - welcomed the ballot, which is due to take place at the end of July.
The South Wales West AM took over the leadership of the group from Neil Hamilton after two other members - David Rowlands and Michelle Brown - backed her.
"I know what the members think of me," she said.
"But you never know. It depends, I suppose, on who is up against me.
"I think I am a good face for UKIP in Wales and I hope members think so too," Ms Jones said, adding that she was a "positive force".
The ballot news comes on the same day it emerged that Mandy Jones, an independent AM who had been blocked from joining the UKIP group despite being a member, was suspended from the party.
Analysis by David Deans, BBC Wales
The move by Mike Hookem - at what one source described as a stormy meeting - to head to Cardiff Bay and announce a ballot has undermined the decision to install Caroline Jones as leader.
It begs the question whether the recently installed UK leader Gerard Batten approved of the ouster, and suggests he may not have.
Mr Hookem has also effectively endorsed a recommendation of Mr Hamilton's lone assembly supporter Gareth Bennett for a party ballot for leader, which was made to National Executive Committee (NEC) earlier this year.
It has not been happy families for UKIP since Ms Jones took the helm of the group.
Mr Hamilton did not go quietly, accusing his colleagues of sacking him by text, and there have been rumours of an attempt to reinstate him.
With this vote, he may now have his chance.
Mr Bennett, AM for South Wales Central, said: "I called for one member one vote for the Welsh party members, so I am delighted by this decision.
"It gives the ordinary members a vote, and that has to be more democratic than a few people taking a decision in a smoke-filled room."
Mr Bennett, as part of his recommendations on the leadership in a report to the NEC earlier this year, had called for automatic reselection for the leader to the top of the party list for his or her region.
One source suspected Mr Bennett's report was a factor in the original decision to eject Mr Hamilton as leader of the assembly group.
Mr Hamilton had himself taken over as group leader after challenging former UKIP Wales leader Nathan Gill shortly after the 2016 Senedd election.
He himself remains UKIP's party representative for Wales, despite not speaking for the party in the assembly.