Call for new national body to save music education services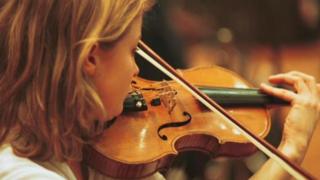 Music tutors have welcomed calls for a new arms-length body to save music education following budget cuts.
It follows a report by the assembly's culture committee which found "vastly different" services are available, depending on where students live.
It said "sufficient resource and clear direction" was needed.
Councils are currently funded by the Welsh Government to provide instruments and deliver music.
Ministers said there had been moves to find alternative funds for music education and have pledged to work with the committee.
Last year Welsh Proms founder and leading conductor Owain Arwel Hughes told the committee's inquiry Wales would no longer be a musical nation unless it tackled a crisis in funding for school music lessons.
In January, Wrexham joined other councils in cutting music services, as part of its efforts to reduce spending by £13m over two years.
The culture committee's report - Hitting the Right Note - has called on ministers to "transfer responsibility for the delivery of music services to an arms-length, national body with a distinct regional delivery mechanism".
With core funding from the Welsh Government, the AMs said the new body should ensure "both pupils and staff working within the music education sector, regardless of their location or social background, are afforded equitable opportunities".
The document also called for:
a Welsh Government national action plan for music
adequate funding, support and advice for anyone wanting to set up alternative ways of providing music services
a significant increase in funding for councils to buy music instruments "as a matter of urgency" before a national body is established
"This report specifically focuses on addressing the shortfalls and achieving consistency across Wales, in order to ensure that every child, regardless of their location or financial backing, has an equal opportunity to progress to excellence," committee chairwoman Bethan Sayed said.
"The time has come to not simply paper over the cracks but to give sufficient resource and clear direction to the sector."
Emma Coulthard, head of music services in Cardiff Council and the Vale of Glamorgan, said: "It's about meeting needs and whatever fires people up we'd like to respond better.
"To go into a school with just a set of orchestral instruments and make them play it will be a bit like the Royal Ballet running a PE department."
And professional musician Jack Butler, who teaches in schools, added: "It differs massively from every school.
"It's an issue because there are some pupils have absolute no help with musical education and others doing ok with it."
A Welsh Government spokesman said it was "important to recognise the progress that has been made in finding alternative sources of funding for music education in Wales, including our £1m investment in Anthem - a pioneering music endowment fund".
"This, as well as our Musical Instrument Amnesty, will help children and young people access new musical opportunities and develop their skills and talent."