Plaid Cymru leader Leanne Wood to quit after election if not FM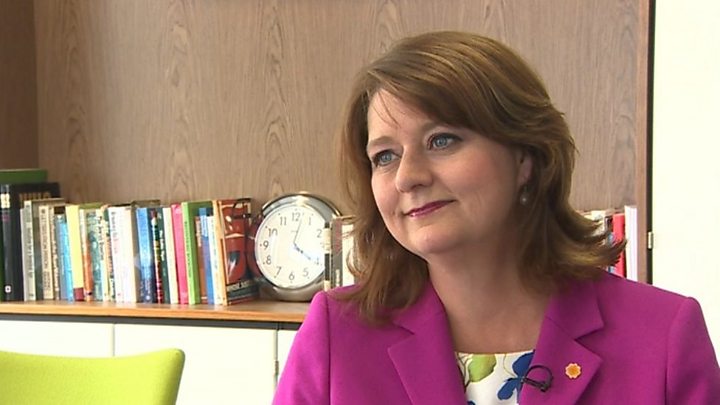 Leanne Wood has said she will stand down as Plaid Cymru leader after the 2021 election if she is not first minister.
She told BBC Wales that she would welcome a leadership challenge and there were "a minority" of people in Plaid that want to go "in a different direction".
"That's why I am restating my platform here today," she said.
Party rules mean the leadership of the party can be contested every two years.
Ms Wood has not faced a challenge since being elected leader in 2012, but BBC Wales understands there is disquiet among Plaid AMs over her performance.
There have been "open and honest discussions" between Plaid AMs, she said, but would not go into detail about the discussions.
Ms Wood said her mandate was from ordinary members, insisting that most of them wanted her continue.
Asked if there was part of her that would welcome a leadership challenge, she said: "To some extent there is, because that gives me an opportunity to go out and have those conversations."
She added: "If I'm not first minister after that election in 2021, I will walk away.
"I will be putting all my effort and focus into ensuring that election is a strong one for Plaid Cymru and we can come out of there in government.
She added: "But I will be first minister."
As part of her proposal to "refresh" her leadership, she called for a full review of the party's policy towards nuclear power - adding that she was not personally in favour of the Wylfa Newydd power station on Anglesey.
Analysis by Aled ap Dafydd, BBC Wales political correspondent
Leanne Wood defied the odds in becoming the Plaid leader in 2012 and caused an electoral shock in winning the Rhondda at the assembly election in 2016.
She now faces an arguably bigger battle.
There is disquiet in the Plaid Cymru assembly ranks about her leadership and growing calls for a contest at the very least.
It was noticeable that Leanne Wood sidestepped a question about whether she had been asked to stand down.
Bring it on is the message to any potential rivals. Leanne Wood is confident she has the support of those who matter most - grassroots members.
She's been prepared to confront talks of plots and potential opponents head on. It remains unclear if anyone is up for the challenge.
It comes a day after Rhun ap Iorwerth, a senior Plaid Cymru AM, said he had no plans to challenge for the leadership of the party.
He has previously aired his own leadership ambitions, should a vacancy emerge.
"I'm very pleased to have his backing to be the first minister candidate up to 2021," Ms Wood said, noting that Mr ap Iorwerth had been "fairly strong and unequivocal".
The Plaid leader said she would not see it as a "betrayal" if he was to change his mind.
"I would welcome the opportunity to have that debate", she said.