Plaid Cymru's Rhun ap Iorwerth 'no plans to challenge leader'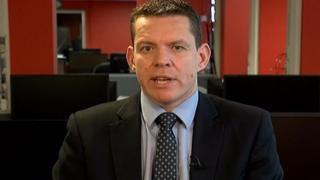 A senior Plaid Cymru AM says he has no plans to challenge for the leadership of the party.
Rhun ap Iorwerth has previously said he would consider running for party leader if Leanne Wood stood down.
The official window which allows for a leadership challenge closes in July.
But the Ynys Mon AM said Ms Wood should lead Plaid Cymru into the next Welsh Assembly election, which takes place in 2021.
Asked if he was ruling out a challenge in the next few weeks, he said: "I can confirm that I have no plans and neither does anyone else have plans to put their name forward in that particular window.
"As far as I'm concerned I have no knowledge that anybody, and that includes me, is planning a campaign or planning to put names forward or seeking to put names forward".
Mr ap Iorwerth has talked about his aspiration of leading the country.
In an interview in 2017, he said: "Having the opportunity to become my own country's prime minister would be something I would be delighted to do, of course - who wouldn't?"
In a press conference on Tuesday he was asked if he wanted Leanne Wood to lead the party for another three years.
He said: "Yes - as we've established there is a discussion going on that we ourselves as a party instigated by having standing orders in place that opens a discussion on the role of leader.
"And Leanne as the leader will have the full confidence of the party.
"We are a pretty united team in the group currently and being united means being able to be quite frank and critical of each other, even."
In January, Ms Wood told BBC Wales she would "welcome" a leadership challenge which Plaid Cymru allows every two years.
Speaking on the Sunday Politics Wales programme, she said: "Ultimately it's a matter for members of Plaid Cymru and that's the beauty of democracy".
However, she added that she was "still committed to doing the job that I set out to do in 2012 and I really want to see it through".
Analysis by Aled ap Dafydd, BBC Wales political correspondent
When a politician says "no plans" it leaves the door ajar for them to do precisely what they say they won't.
But this is a public endorsement of Leanne Wood by a senior member of her team and a u-turn in the next few weeks by Rhun ap Iorwerth would be a very bold move.
There are Plaid AMs however who want him to replace Leanne Wood.
But there is a feeling that he needs to do the "heavy lifting" himself rather than depend on others to prepare the ground for him.