Space sector: Lack of action from Welsh ministers, warns expert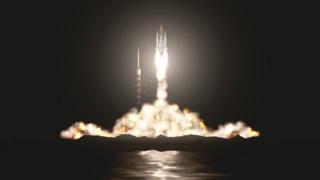 The Welsh Government "just hasn't done anything" in Wales' space sector, according to a UK space expert.
Dr Bleddyn Bowen, from the University of Leicester, called space a serious sector "we ignore at our peril".
He wants Welsh ministers to set up grants to stimulate research for innovation in the Welsh space sector.
The Welsh Government said it was involved in academic centres of excellence supporting the development of businesses within the sector.
Space technology can be used in space for exploration missions and on earth for unmanned aerospace and satellite technology for telecommunications, weather and environmental analysis.
It is an area of policy reserved to Westminster but the Welsh Government can support Wales' space academia and industry, working with the UK Space Agency, which also coordinates British activity through the European Space Agency.
According to 2014-15 UK Space Agency figures, space manufacturing in Wales generated £31m and employed nearly 200 people.
It said there were 35 organisations in academia, industry and government involved in space-related activity.
They include Aberystwyth University involvement in developing the Mars rover vehicle and the Beagle 2 mission, and Cardiff University work on a new European mission to study new planets.
Llanbedr Airfield in Gwynedd - already used to test Remotely Piloted Aircraft Systems (RPAS) - is one of four sites being considered for the UK's first commercial space port.
But Dr Bowen, formerly of Aberystwyth University, told the Sunday Politics Wales programme the Welsh Government "just hasn't done anything" in the space sector.
He said: "Perhaps ... it's a capacity [issue], it hasn't got the resources to be interested, or perhaps the space sector is still relatively small in Wales, that nobody's thought about doing anything or nobody's actually made the case before to the Welsh Government, outside of industry as well.
"And the fact that a lot of the activities happen on the UK and European level as well has sort of diminished anyone thinking that Welsh Government can or should do anything about it."
He wants Welsh ministers to use grants and loans to encourage innovation in the Welsh space industry and promote academic departments to develop commercial applications.
"This is a high technology, knowledge economy-based solution for a lot of problems we have here on earth, that we can make money out of as well…something real, tangible, useful and functional that we can't do without in our modern economy. It's a serious sector of industry that we ignore at our peril," he said.
A Wales Space Strategy was launched in 2015, written by the Welsh Government with the trade association Aerospace Wales Forum.
The forum's chief executive John Whalley said progress had been slow but it had raised Wales' profile in the sector, with more investors lined up and announcements to come.
He said: "We are very much concentrating on the test and evaluation side in Wales because we have some wonderful facilities like the airfield at Llanbedr, the test range at Pendine, and Radnor Range right in the middle of Wales.
"But there's also the whole down-stream side of space, which is the exploitation of data from space for things like satellite navigation, for broadcasting, for earth observation.
"We already have a number of players in Wales. I would expect to see the number blossom considerably."
'Huge opportunities'
Denying the inactivity charge, Welsh Economy Secretary Ken Skates said there were "centres of excellence in Wales within our institutions, higher education institutions, and in further education, that support the development the companies and businesses within the space sector".
"And also the tech sector is crucially important to the activities involving space exploration, launching of satellites and so forth," he said.
Some of the "best companies in the world" were in Wales, supported by the Welsh Government, and we should "build on those areas of strength and make sure that we capitalise on UK Industrial Strategy's challenge funds as well" Mr Skates said, confirming the Wales Space Strategy was being refreshed.
"We reckon there are going to be huge opportunities working with the UK Space Agency, with Welsh institutions in education to make sure that we capitalise on what we've got within the space sector and within the tech industry sector at the moment so that we can leap to the forefront of space technological development," he said.