Actors missing out on TV and film roles in Wales, Equity union claims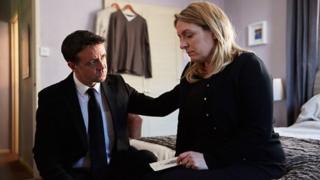 Welsh actors are missing out on roles in movies and TV series filmed in Wales, a union leader has told AMs.
Equity's national organiser for Wales, Simon Curtis, claimed even productions backed by Welsh Government aid featured few if any Welsh actors in main roles.
He said casting sessions still tended to be held in London due to a sense that there "isn't any talent" locally.
The Welsh Government said its funding helped ensure "a number of roles" in productions came from within Wales.
But a spokesman said casting decisions were solely a decision for producers.
Mr Curtis told the assembly's culture committee actors just wanted a chance to audition, not quotas.
"It's the ability to get into the room ... then you leave it to their talent," he said.
The BBC One drama Requiem and Channel 4's Kiri were named in Equity's written evidence as examples of series filmed in Wales where it said few of the main characters were played by actors from Wales.
Mr Curtis told AMs on Wednesday that the investment was welcome, but Welsh actors were missing out on the leading roles because casting sessions still tended to be held in London.
Asked why he thought casting directors were reluctant to come to Wales, Mr Curtis said: "There's a sense that 'there isn't any talent there'," adding that directors felt they could find the people they needed in south east England.
He rejected the idea of making aid dependent on quotas for Welsh actors as "troubling", saying his members just wanted the opportunity to audition through local casting sessions.
Mr Curtis added that work opportunities overseas for Welsh performers were "drying up" because of uncertainty over Brexit.
He said free movement was a "massive issue" for actors, who could be denied the chance to work on major TV projects filmed in the EU such as War and Peace, co-produced by BBC Wales.
"If you're going to work in America, you have to get a working visa - that's understood," Mr Curtis said.
"If they've got to go through a visa application (for Europe) that is a further obstacle."
'Breadth and quality'
A Welsh Government spokesman said productions it had backed such as Hinterland and Keeping Faith have "shown the breadth and quality of acting talent we have on our doorstep".
"Any financial support given to productions to come and film here is based on a commitment to spend large proportions of their budgets on the production supply chain and the wider Welsh economy," the spokesman added.
"This spend has to be evidenced before funding is released. Our funding helps to ensure that a number of roles within a production are filled from within Wales."
The BBC and Channel 4 have also been asked to comment.