Sport Wales interim chairman Lawrence Conway confirmed in post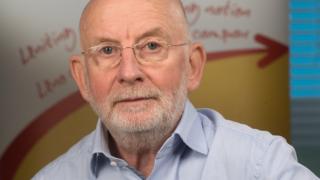 The interim chairman of Sport Wales will stay in the job permanently, the Welsh Government has confirmed.
Lawrence Conway took charge of the troubled quango in 2017 after Paul Thomas was suspended and then sacked.
Culture and Sport Minister Lord Elis-Thomas said Mr Conway had "provided renewed confidence and a stable platform to the organisation".
Sport Wales, whose origins go back to 1972, promotes elite and grassroots sport with an annual budget of £22m.
"Lawrence will continue to implement and embed the recommendations of the Ministerial Review into Sport Wales, with the utmost of professionalism and enthusiasm," Lord Elis-Thomas said.
Mr Conway previously held senior roles as a civil servant with the Welsh Government, Welsh Office and the Cardiff Bay Development Corporation.
Welcoming the confirmation of his appointment, Mr Conway said the development of a new vision for sport in Wales "offers fresh drive and opportunities that I want to share beyond sport".
"Being active and healthy brings benefits across Welsh life and we need to highlight these benefits so that sport and sporting activity can become central to people's lives," he said.
Four new board members were also named - Judi Rhys, Prof Leigh Robinson, Martin Veale and Phil Tilley.