Food suppliers see public sector as 'unreliable' source of income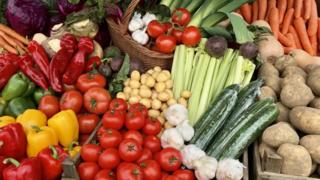 Food suppliers do not see the Welsh public sector as a reliable customer, according to an assembly report.
AMs on the climate change committee said Wales' bulk-buying operation - the National Procurement Service - overestimated how much contracts would be worth to providers.
In reality they were worth a fraction of what was being projected.
Committee chairman Mike Hedges said more needs to be done to restore faith in the sector.
The Swansea East AM also called for the wider benefits of food purchasing for hospital patients and Welsh school children to be explored.
It emerged in March that the National Procurement Service had to be bailed out by the Welsh Government after making millions in losses.
The organisation is designed to save money in the public sector by centralising the buying of goods and services.
But a report by the Climate Change, Environment and Rural Affairs Committee found that the organisation was overestimating the value of food contracts offered to suppliers.
Mr Hedges said: "That some companies see the sector as unreliable, and that contracts are often not worth the estimated value placed on them by the National Procurement Service, means that more must be done to restore faith and ensure tenders are attractive enough for businesses to bid for them."
The AMs called for the Welsh Government to develop an "overarching food strategy which sees food as an investment in the lives of people in Wales", arguing that not enough was being done to realise the wider benefits of quality food procurement, saying the sector does not see working with the Welsh public sector as prestigious.
"As a starting point, we must make the most of the £74m a year being spent by the public sector so we can improve health, wellbeing and social outcomes," Mr Hedges added.
A Welsh Government spokesman said: "We will respond formally to the report shortly."