£1.3bn Swansea tidal lagoon 'too big a prize to give up'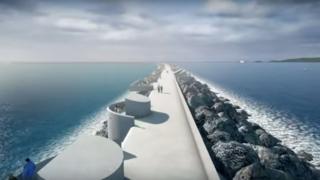 Supporters of the proposed £1.3bn tidal lagoon in Swansea have vowed to find a way of pushing the scheme ahead without the support of the UK government.
The Financial Times reported on Friday that UK ministers will throw out the plan next week.
The sticking point is the UK government is not willing to pay Tidal Lagoon Power (TLP) the fee it wants for energy but a revised offer has been made.
However TLP has claimed no talks have taken place for more than a year.
The firm added it has "repeatedly" offered to meet ministers to discuss what price the government would pay for power and claimed the last meeting between officials and ministers "was approximately 12 months ago".
"We will not give up on this project," said Swansea council leader Rob Stewart.
"We will now focus on how the lagoon can be delivered without UK government involvement.
"There have already been discussions with Welsh Government and they have already made a significant offer of support to the project.
"We will evaluate how this support - together with a revised funding model - can deliver this project.
"Sustainable renewable Welsh energy for future generations is too big a prize to give up."
Mr Stewart added an independent report has been commissioned to look at how the lagoon can be delivered differently.
TLP had previously asked for a 90-year contract with the UK government with an average strike price of £89.90 per megawatt hour. The new nuclear power station at Hinkley Point C in Somerset was given a strike price of £92.50/MWh for 35 years.
In January 2017, a UK government-commissioned report published by former energy minister Sir Charles Hendry recommended that tidal lagoons could play "a cost-effective role in the UK's energy mix".
Twelve months later, the Welsh Government offered the project "substantial investment" to help reduce the subsidy required.
But the UK government has continually refused to commit to the project saying it "must be affordable".
In March, Business Secretary Greg Clark told MPs the UK government does not want to "close the door" on the Swansea lagoon.
However, with reports suggesting it is about to close with First Minister Carwyn Jones saying it would be "another kick in the teeth" for Swansea rail electrification to the city was abandoned earlier this year.
Tidal lagoon: The timeline
2003: Plans first emerge for a £30m tidal power project in Swansea Bay from a green energy charity
2006: Tidal Electric Ltd prepares a scoping report for a lagoon to take the project on but it is put on hold
2012: Tidal Lagoon Power (TLP) unveils its ambition to develop a breakwater and power generation
2013: TLP starts developing its plans
2014: Plans submitted to Planning Inspectorate with a cost of £850m
2015: Proposals get backing of UK government, subject to subsidy agreement - hope it could be operational by 2018
2016: Report warns of impact on fish and Charles Hendry is appointed to lead independent review into £1.3bn lagoon's viability
2017: Hendry review backs the lagoon as a "no regrets" option but the UK government is still to decide
2018: Delays, mostly believed to be over arguments over value for money. Welsh Government also offers substantial investment
A spokesman from the Department for Business, Energy and Industrial Strategy said: "As the business secretary told MPs recently, while we have quadrupled the proportion of our electricity that comes from renewable sources since 2010, we have a responsibility to minimise the impact on consumer bills and the Swansea proposal is more than twice as expensive as the Hinkley power station.
"Any decision on the Swansea Bay tidal lagoon project will have to represent value for money for the UK taxpayer as well as the consumer."