Registration drive for Welsh Youth Parliament launched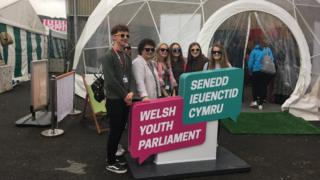 A drive to register voters for a new Welsh Youth Parliament has been launched on the Urdd National Eisteddfod field in Builth Wells.
People aged from 11 up to 18 can register to vote in online elections to be held over three weeks in November.
Welsh Assembly Presiding Officer Elin Jones said the body would allow children and young people to express opinions on matters affecting them.
Funky Dragon, Wales' previous youth assembly, closed in 2014.
The charity had lost its core funding from the Welsh Government.
Like the Welsh Assembly, the youth parliament will be made up of 60 members, with 40 of them elected using an electronic voting system to represent each of the constituencies in Wales.
The remaining 20 will be returned by organisations representing various groups of young people.
Ms Jones said the initiative was part of Wales' commitment to the United Nations Convention on the Rights of the Child.
"In the context of our work as a legislature, establishing the Youth Parliament ensures that we are discharging our duties to the voters of today and tomorrow - to each and every citizen in Wales - all of whom have a stake in our democracy," she said.
The Welsh Youth Parliament will meet for the first time next February.