Welsh Labour minister backs 1p on income tax for NHS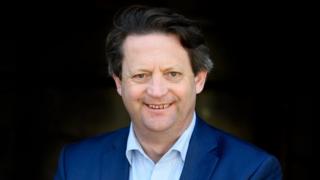 People would be happy to vote for an added penny on income tax to help fund the Welsh NHS, Wales' Local Government Secretary Alun Davies has said.
The Welsh Government has vowed not to increase tax rates during the current assembly term, ending in spring 2021.
But with the Welsh Labour leadership contest in the background, Mr Davies said the party should be prepared to raise funds to "take on austerity".
The AM for Blaenau Gwent has not ruled out standing in the contest.
Ministers will be able to vary Welsh rates of income tax by up to 10p within each band when they are devolved in 2019.
The local government secretary told BBC Wales he was not challenging the existing Welsh Government commitment on income tax.
But he said: "When we go into the 2021 election we need to be able to be very clear about how we're going to be funding our policies, and funding our ambitions."
"I think we've got to think hard about what's happening with the National Health Service today. It's not enough to talk about our commitment to it," he said.
Mr Davies argued that it was not enough for the party to go into the next election saying "all we will do is ameliorate Tory policy".
"I think if we really do believe what we say then we have to say very clearly that we will use all the powers at our disposal, all the levers that we have, in order to follow a very different route," he said.
'Point of principle'
"One of those levers is income tax. I believe that the people of Wales will be very happy to vote for a penny for the National Health Service, a penny for Aneurin Bevan's vision, a penny for Aneurin Bevan's ambition.
"I think that's something we should be doing as a point of principle, and a philosophical approach, and also a practical approach for funding the National Health Service, in order to take pressure off education and local health services."
Mr Davies called for a debate on the matter within Welsh Labour - which is due to elect a new leader later in the year.
Whoever is successful in the contest will take over as first minister from Bridgend AM Carwyn Jones, who is due to step down in December.
"In 2021 we will be electing a Welsh parliament... able to raise its own funds and make its own laws," he said. "That means taking responsibility as well."
"We've got a responsibility now in Wales, I believe, to tell the truth to people, and to actually be honest in our politics.
"And that means talking about how we raise money, as well as how we spend money."
Mr Davies said the Welsh Government had succeeded in softening the worse impacts of austerity, but he added: "We have to say, as a Welsh Government, we are prepared to raise the funds to take on austerity, as well as to spend the money in a way which protects the weakest and the most vulnerable in our society".
Ogmore Labour MP Chris Elmore tweeted that Mr Davies' proposal was an "interesting idea".
"We must find new ways to fund services and taxation must be part of that discussion," he said.
Alun Davies said there were a "lot of people" telling him he should consider joining the Welsh Labour leadership race.
But he said there needed to be a debate on policy before there is a debate on the leadership.
"What's important to me is that we have a radical approach to government. We need to renew ourselves," he said.
Mr Davies added that if there were "candidates who share that radicalism, that approach to a future way in which we govern Wales, I would be very happy to support another candidate as well".
At the moment there is only one AM - Mark Drakeford - who has the nominations necessary to take part in the contest, although Vaughan Gething has also announced his intention to stand but is currently without the required support.